QC-001 Provides Flexibility To Extremely Light Payload Robots
ATI Industrial Automation has developed a new Robotic Tool Changer for extremely light payloads. The QC-001 model Tool Changer features an extremely compact and lightweight design for high-speed "spider" or delta robots. This new Tool Changer enhances the flexibility of these robots by enabling them to switch end-effectors automatically. Multiple assembly, dispensing, sorting, and material handling operations can be performed by one robot, greatly increasing productivity, while reducing downtime for change-overs. The QC-001 Tool Changer also features integrated pneumatic ports and electrical connections.

Product Features and Options:
Payload: 2.2 lb (1 kg).
Weight (when coupled): 0.12 lb (0.055 kg).
Stack Height (when coupled): 0.67 in (17 mm).
Electrical Pass-throughs: 6-pins @ 3 Amp/50VAC.
Pneumatic Pass-through Ports (qty): (4) M5.
ATI offers a wide selection of Tool Changer models to cover a variety of applications. Key features include: Excellent repeatability, high rigidity, and a lightweight and compact design. With over 20 years of robotic end-effector innovation, ATI's engineering department, the largest of its kind for a robotic tooling company, is focused on developing cost-effective, state-of-the-art products and solutions.
About ATI Industrial Automation:
ATI Industrial Automation is the leading engineering-based world developer of robotic accessories and robot arm tooling, including Automatic Tool Changers, Multi-Axis Force/Torque Sensing Systems, Utility Couplers, Robotic Deburring Tools, Robotic Collision Sensors, Rotary Joints, and Compliance Devices. Our robot end-effector products are found in thousands of successful applications around the world.
Featured Product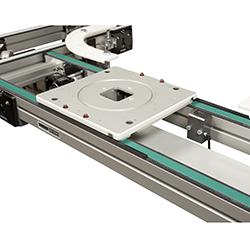 Dorner's 2200 Series Precision Move Pallet Systems feature the latest advancements in pallet traffic management. A unique pin tracking system guides pallets through merges and curves while maintaining product orientation. The fast belt change capability increases efficiency and reduces downtime in assembly automation processes. They are available in lengths up to 25 ft., can handle loads up to 500 lbs. and travel at speeds up to 114 ft/min.