Grishin Robotics announcing today its $250,000 investment into Double Robotics .The parties do not disclose other terms of the deal.
NEW YORK, NY, Sep 21, 2012 (MARKETWIRE via COMTEX) -- Grishin Robotics ( http://grishinrobotics.com ) announcing today its $250,000 investment into Double Robotics ( http://www.doublerobotics.com ). The parties do not disclose other terms of the deal.

Double Robotics, a recent graduate from Y Combinator ( http://ycombinator.com ), builds telepresence robots, characterized by ground-breaking price ($2,499, can be pre-ordered now for $1,999), great design, light weight and high level of simplicity -- it works right "out of box" and uses iPad as a platform.
Double Robotics already has $1.2 million (600 units) in pre-orders (in one month since the launch), from 44 countries around the world. Customers include 24 universities, as well as 17 Fortune 500 companies. Since the first production run of Double has already sold out, the investment from Grishin Robotics will be spent primarily on scaling manufacturing, as well as hiring and further product development. New pre-orders will be delivered in early 2013. Engineers interested in career in Double Robotics can get in touch with the company by the e-mail jobs@doublerobotics.com.
According to ABI research data, worldwide telepresence market is going to reach $13.1 billion by the end of 2016. Current customers of Double Robotics are using the product for teleconferencing, security surveillance, real estate and museum tours, healthcare, presentation purposes and many others. Telepresence is considered by industry experts as one of the most promising and will drive the personal robotics market growth into the mainstream.
"Investment in Double Robotics perfectly fits our strategy," said Dmitry Grishin, founder of Grishin Robotics. "It is a consumer-oriented product with potential to fit a broad range of applications and has already generated strong consumer demand. It's also important that the price of the product makes it accessible to the wide audience. In addition, the team has creative approach to design and is keen to build user-friendly products -- both are very important focus areas for next-generation personal robotics companies. Double Robotics is well positioned to leverage the unique potential of the prominent telepresence robotics market. We have a great belief in Double Robotics team and its product."
"We are thrilled to have Grishin Robotics and Dmitry Grishin, in particular, as our largest investor to date," said David Cann, Co-founder of Double Robotics. "We read about the new investment firm and Dmitry's experience in the field of robotics in June 2012 when the fund was announced. The timing was perfect, as we were just beginning the Y Combinator program with our prototype robot. After our public launch in August, we met with Grishin Robotics and were immediately impressed with their mission and deep knowledge of the robotics industry's past mistakes and potential future. We look forward to working with Grishin Robotics in the years to come as we build our business."
Featured Product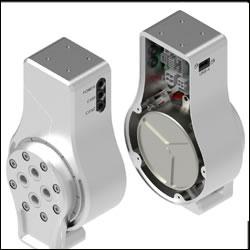 maxon launches the next generation of positioning controllers - the EPOS4. A high performance module with detachable pin headers and two different power ratings. With a connector board, the modules can be combined into a ready-to-install compact solution. Suitable for efficient and dynamic control of brushed and brushless DC motors with Hall sensors and encoders up to 750 W continuous power and 1500 W peak power. The modular concept also provides for a wide variety of expansion options with Ethernet-based interfaces, such as EtherCAT or absolute rotary encoders.