ESAB Welding & Cutting Products showcased several new products and innovative processes at the 2012 IMTS event in Chicago, September 10-15, 2012.
Florence, SC September 26, 2012

ESAB Welding & Cutting Products showcased several new products and innovative processes at the 2012 IMTS event in Chicago. Held September 10-15, 2012, more than 100,000 people attended the International Manufacturing Technology Show - one of the largest industrial trade shows in the world.
ESAB Cutting Systems featured the latest in plasma and CNC integration while demonstrating its unique under water plasma cutting capability. A Sabre DXG gantry shape cutting machine was equipped with the Vision T5 CNC and ESAB's m3 Plasma™ system, and showed off the benefits of Precision Hole Technology, Smart Voltage Height Control, and the new SmartCycle Technology.
ESAB Automation showcased the MechTrac automated welding gantry equipped with the Integrated Cold Electrode (ICE) welding head, the AVPS Laser Seam Tracking System for positioning accuracy, and the new Aristo 1000 AC/DC power supply, which allows operators to switch from AC to DC on the fly. Other live demonstrations included ESAB's new Swift Arc Technology (SAT) process and new Robotic RT welding torches - both new additions to ESAB's robotic welding line of equipment.
At IMTS 2012, ESAB demonstrated a comprehensive product and process portfolio that provides solutions for nearly every industry and application. ESAB's range of equipment and filler metals is suited for small job shops, large-scale production environments, and everything in-between.
With more than 100 years of experience, ESAB Welding & Cutting Products is one of the world's largest and most skilled manufacturers of welding and cutting equipment and welding filler metals. Recognized as the technological leader in the industry, ESAB is committed to providing customized solutions for their customers. For more information, visit http://www.esabna.com or call 1-800-ESAB123.
Featured Product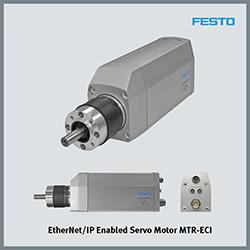 Mechatronic Motion Solutions from Festo is a unique system of components, modules, and software. It integrates all types of pneumatic, servopneumatic and (electro)mechanical automation motion and combines them according to your task. Irrespective of the control system environment you use, Mechatronic Motion Solutions always provides the appropriate interfaces. The fingers can be actively moved and their strength amplified; the operator's hand movements are registered and transmitted to the robotic hand in real time. The objectives are to enhance the strength and endurance of the human hand, to extend humans' scope of action and to secure them an independent lifestyle even at an advanced age.