Contract value for Phase I (including option) totals $1M USD.
Los Angeles, Calif., October 9, 2012 - Silvus Technologies Inc., a leading developer of advanced multi-input multi-output (MIMO) wireless technology, announced today that it has been awarded a contract to provide prototype development for Phase I of DARPA's Fixed Wireless at a Distance program under sponsorship of the Air Force Research Lab (AFRL). Contract value for Phase I (including option) totals $1M USD. Also participating as subcontractors to Silvus are BAE Systems and Alcatel Lucent Bell Labs acting through LGS Innovations.

Current military communication systems have limited ability to support mobile, distributed operations in remote geographic areas due to the small size of networks and relatively short range of individual military radios. The Fixed Wireless at a Distance program seeks to enable pervasive, high-throughput military communications to geographically dispersed forces using a mobility backbone infrastructure that provides unlimited scalability for high-speed communication for warfighters.
Silvus' proposed approach aims to deliver on the metrics set out in the program BAA and deliver a fully self-organizing and highly-scalable communications solution. Advanced MIMO techniques and proprietary Media Access Control (MAC) protocols will be exploited to seamlessly scale from as few as 10 distributed antennas to as many as 100 antennas, or more. The anticipated resulting deliverable will be a distributed multi-antenna communication system that delivers performance on par with that of a centralized multi-antenna system.
Silvus COO and VP of Business Development Phillip Duncan states, "We are delighted to have an opportunity to work with DARPA and our partners Alcatel Lucent Bell Labs and BAE to bring next-generation technology one step closer to the reality. With years of experience developing MIMO technologies for military and commercial applications, Silvus is uniquely positioned to leverage its expertise to bring a much needed capability to the warfighter."
About Silvus Technologies
Headquartered in Los Angeles, Silvus Technologies develops complex MIMO technologies that are expected to reshape broadband wireless connectivity worldwide. Backed by an unmatched team of PhD scientists and design engineers, its technologies provide enhanced wireless data throughput, wireless interference mitigation, anti-jamming, spatial cancellation, and improvement of Quality of Service (QoS) for the support of critical video and data transmissions.
Featured Product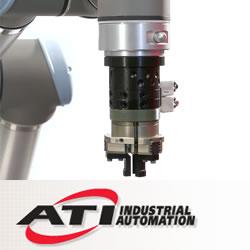 The ATI Robotic Tool Changer provides the flexibility to automatically change end-effectors or other peripheral tooling. These tool changers are designed to function reliably for millions of cycles at rated load while maintaining extremely high repeatability. For this reason, the ATI Tool Changer has become the number-one tool changer of choice around the world. ATI Tool Changer models cover a wide range of applications, from very small payloads to heavy payload applications requiring significantly large moment capacity.