KEBA robot control KeMotion with its built-in feature "Intelligent Motion" ensures a long look-ahead path and motion planning.
The KeMotion robot control from KEBA allows user-friendly multi-robot control

A typical pick & place application from packaging industries controlled by KeMotion
That way multiple robot kinematics in a shared working space can be controlled by one single KEBA robot control. Standstills and harsh start and stop actions are effectively avoided. Motion-sequences are always smooth and flowing.
Increased productivity and improved energy-efficiency
In practice this means an increase in productivity by up to 10% and improved energy efficiency to the same degree. In addition, the mechanics of the robots are treated with care, which in turn increases the lifetime on one hand and allows sparing of house-sized kinematics on the other hand.
Technology advantage in series
"Intelligent Motion" is a standard feature of KeMotion and already factory-installed. The user benefits from it without having additional costs or extra programming effort.
Featured Product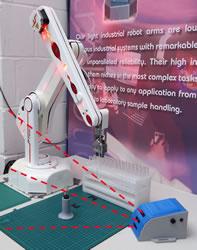 ST Robotics have decades of experience in industrial robots having sold hundreds of robots over the years. The company has 3 main models, R12, R17 and R19 all using a unique simple industrial technology that dramatically reduces costs resulting in the lowest priced industrial robots available. The same uncomplicated technology vastly improves reliability. ST backs this up with a 2 year warranty. Typical applications are routine testing, sample handling and also education. The software is a different paradigm from most robots. It is command based; you type a command and see immediate action. Programming is a building block approach, building confidence as you program in small 'mind-sized bytes'. ST offers free unlimited technical support.