Features FANUC's exclusive new and easy-to-use iPendant with 4D graphics.
ROCHESTER HILLS, Mich., Sept. 24, 2012 - FANUC Robotics America, Corp. has introduced its next generation intelligent R-30iB Controller.

The new FANUC R-30iB Controller uses high-performance hardware and the latest advances in network communications, integrated iRVision®, and motion control functions. The R-30iB Controller features FANUC's exclusive new and easy-to-use iPendant with 4D graphics. The iPendant displays process information and the actual process path directly on the iPendant screen, enabling easier setup and troubleshooting.
"The new R-30iB Controller with the 4D iPendant and improved productivity represents a new era of robot intelligence," said Claude Dinsmoor, general manager, Material Handling Segment, FANUC Robotics America.
The 4D graphical iPendant displays 3D graphics plus invisible process data. "The new iPendant is unique in the industry - we consider it a game changing advancement in robot programming and making the robot easier to use," said Dinsmoor.
Based on the latest FANUC Series 30iB CNC Controller, the new R-30iB Robot Controller is compact, providing customers a significant space savings. The new R-30iB Controller is also energy efficient, requiring less power consumption than previous models.
"In addition to enhanced functionality, the new R-30iB Controller is a green manufacturing product," added Dinsmoor, "That means in terms of energy consumption our robots now do more with less."
The new R-30iB Controller also supports the company's "Gakushu" Learning Robot that utilizes the Learning Vibration Control (LVC) feature. LVC improves robot performance by actually learning the characteristics of a specific application path which minimizes cycle time and suppresses robot vibration.
FANUC Robotics America designs, engineers and manufactures industrial robots and robotic systems for a wide range of applications including arc and spot welding, material handling (machine tending, picking, packing, palletizing), material removal, assembly, paint finishing and dispensing. The company also provides application-specific software, controls, vision products, and complete support services. After 30 years of success, FANUC Robotics maintains its position as the leading robotics company in the Americas. A subsidiary of FANUC Corporation in Japan, the company is headquartered in Detroit, and has facilities in Chicago; Los Angeles; Charlotte; Cincinnati; Toronto; Aguascalientes, Mexico; and Sao Paulo, Brazil. Contact FANUC Robotics at www.fanucrobotics.com or by calling 1-800-iQ-ROBOT, option 5. Also visit us on YouTube, Facebook, Twitter, and Google+.
Featured Product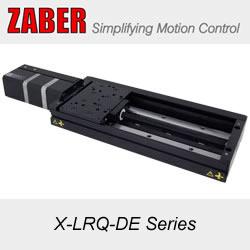 Zaber's new and improved stage (X-BLQ-E) is a closed-loop, belt-driven motorized linear stage with built-in motor encoder and controller. With travel lengths up to 3 m, 10 µm repeatability, and a maximum speed of 2.0 m/s, X-BLQ-E stages are perfect for rapid positioning over large distances. A built-in motor encoder allows closed-loop operation and slip/stall recovery, and an optional indexed knob provides manual control for operation without a computer. Like all Zaber products, the X-BLQ-E Series is designed for easy set-up and operation.