MILWAUKEE--Rockwell Automation, Inc. (NYSE: ROK) will host its annual investor meeting on Thursday, November 8, in conjunction with the Company's Automation Fair being held at the Pennsylvania Convention Center in Philadelphia www.automationfair.com.

The meeting will include presentations on Rockwell Automation's strategic plans and market outlook by Chairman and Chief Executive Officer Keith Nosbusch, Chief Financial Officer Ted Crandall, and other key leaders.
The video webcast portion of the meeting will begin at approximately 1:00 p.m. Eastern Time and will be available on the Company's website at www.rockwellautomation.com.
Rockwell Automation, Inc. (NYSE: ROK), the world's largest company dedicated to industrial automation and information, makes its customers more productive and the world more sustainable. Headquartered in Milwaukee, Wis., Rockwell Automation employs about 21,000 people serving customers in more than 80 countries.
Featured Product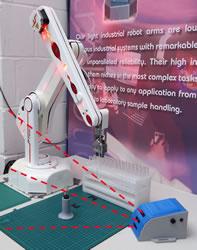 ST Robotics have decades of experience in industrial robots having sold hundreds of robots over the years. The company has 3 main models, R12, R17 and R19 all using a unique simple industrial technology that dramatically reduces costs resulting in the lowest priced industrial robots available. The same uncomplicated technology vastly improves reliability. ST backs this up with a 2 year warranty. Typical applications are routine testing, sample handling and also education. The software is a different paradigm from most robots. It is command based; you type a command and see immediate action. Programming is a building block approach, building confidence as you program in small 'mind-sized bytes'. ST offers free unlimited technical support.