MILWAUKEE--Rockwell Automation, Inc. (NYSE: ROK) will host its annual investor meeting on Thursday, November 8, in conjunction with the Company's Automation Fair being held at the Pennsylvania Convention Center in Philadelphia www.automationfair.com.

The meeting will include presentations on Rockwell Automation's strategic plans and market outlook by Chairman and Chief Executive Officer Keith Nosbusch, Chief Financial Officer Ted Crandall, and other key leaders.
The video webcast portion of the meeting will begin at approximately 1:00 p.m. Eastern Time and will be available on the Company's website at www.rockwellautomation.com.
Rockwell Automation, Inc. (NYSE: ROK), the world's largest company dedicated to industrial automation and information, makes its customers more productive and the world more sustainable. Headquartered in Milwaukee, Wis., Rockwell Automation employs about 21,000 people serving customers in more than 80 countries.
Featured Product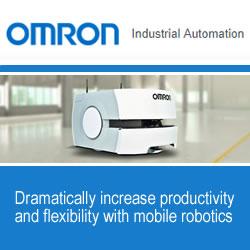 The Omron Adept Lynx Cart Transporter is an Autonomous Intelligent Vehicle (AIV) designed to attach to movable carts and transport them from a pickup location to a drop off location. Applications include line-side inventory replenishment, moving flow racks, transporting Work in Progress (WIP) between process steps, and moving finished goods to the warehouse. The Lynx Cart transporter leverages Natural Feature Navigation to autonomously find a path through the facility without the need for any facility modifications necessary.