Enterprise Resource Planning System Designed to Further Improve Manufacturing Efficiency
MOUNT OLIVE, NJ, JUNE 5, 2012 - Integrated Microwave Technologies, LLC (IMT), a Business Unit within the Vitec Group's Videocom Division, and a leader in advanced digital microwave systems serving the Broadcast, Sports & Entertainment and MAG (Military, Aerospace & Government) markets, announces that it has successfully implemented a new Enterprise Resource Planning (ERP) system called Industrial and Financial Systems (IFS) at its engineering and manufacturing facility in Mount Olive, NJ.

The implementation of IFS enables greater efficiency, productivity and lower costs through process automation. IMT expects to reduce inventory costs resulting from better planning, tracking and forecasting of manufacturing requirements. Tasks such as ordering spare parts, logistics, invoicing and data tracking are standardized companywide, streamlining all business functions while increasing quality control.
"The implementation of IFS establishes uniform processes that are based on recognized best business practices," says IMT Divisional Chief Executive Stephen Shpock. "IFS will allow us to achieve better control, greater transparency and accuracy in cost reporting and to further streamline our production workflow. We expect the implementation will improve customer satisfaction based on improved on-time delivery, increased quality and shortened delivery times."
IMT is an ISO 9001:2008 certified QMS organization and recipient of multiple industry awards for design and innovations.
Featured Product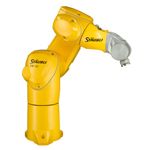 TX2 series of robots: the next generation of fast and precise 6-axis robots. This new robot range is redefining performance with the optimum balance of speed, rigidity, size and envelope. Those pioneer robots can be used in all areas, including sensitive and restrictive environments thanks to their unique features. Known worldwide for the quality of our design and innovation for more than a century, the Stäubli Group has brought its renowned engineering expertise and technological ingenuity to the forefront of robotics. Since 1982, we have built a highly regarded robotics business, and more significantly, transformed the way thousands of manufacturing operations perform. Today Stäubli Robotics is a leading player in robotics around the world, consistently delivering engineering as effective and reliable as our service and support.