Innovative capabilities designed for Brad® HarshIO Ethernet/IP and PROFINET modules enable faster tool changes and power up
Pack Expo 2012

LISLE, Ill.--Molex Incorporated introduces the QuickConnect and Fast Start Up capabilities of Brad® HarshIO modules at Pack Expo International, October 28 - 31, Chicago, IL, Molex booth S2957. The QuickConnect feature is designed for use with Ethernet/IP protocol products and the Fast Start Up capability is designed for use with PROFINET protocol products that are part of the Molex HarshIO series of industrial I/O modules.
"Industrial robotic applications are a key value driver for our QuickConnect and Fast Start Up functionality," said George Kairys, product manager, Molex. "Typically, in the packaging, automotive, printing, processing and other industries, the same robot can utilize different end-of-arm tooling to perform different tasks along the automated production line. In achieving faster tool changeovers and quick power up, manufacturers can reduce the number of robots required per cell, while greatly improving the speed and efficiency of their production cycles."
The QuickConnect and Fast Start Up technology enhancements for Ethernet/IP and PROFINET allow the robotic devices' I/O modules to be powered up, functioning and communicating to the host device in a very short period of time (less than 500 milliseconds). Since only the I/O communications and power need to be connected to affect the end-of-arm tool change, tool changeovers can be done quickly, with minimal downtime.
A unique feature of Molex HarshIO module series is the patented Ultra-Lock™ M12 push-to-lock connection system, which provides secure connections and faster, easier installation. Molex offers a comprehensive line of Brad HarshIO modules for Ethernet/IP, PROFINET and other protocols.
For more information on Molex industrial automation products please visit http://www.molex.com/bradautomation.html. To receive information on other Molex products and industry solutions, please sign up for the www.molex.com/link/register/.
About Molex Incorporated
Providing more than connectors, Molex delivers complete interconnect solutions for a number of markets including data communications, telecommunications, consumer electronics, industrial, automotive, medical, military and lighting. Established in 1938, the company operates 40 manufacturing locations in 16 countries. The Molex website is www.molex.com. Follow us at www.twitter.com/molexconnectors watch our videos at www.youtube.com/molexconnectors, connect with us at http://www.facebook.com/molexconnectors and read our blog at www.connector.com.
Featured Product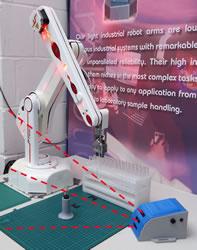 ST Robotics have decades of experience in industrial robots having sold hundreds of robots over the years. The company has 3 main models, R12, R17 and R19 all using a unique simple industrial technology that dramatically reduces costs resulting in the lowest priced industrial robots available. The same uncomplicated technology vastly improves reliability. ST backs this up with a 2 year warranty. Typical applications are routine testing, sample handling and also education. The software is a different paradigm from most robots. It is command based; you type a command and see immediate action. Programming is a building block approach, building confidence as you program in small 'mind-sized bytes'. ST offers free unlimited technical support.