Robots provide as a productivity tool for major US manufacturing companies
(Ann Arbor, Michigan - October 29, 2012) North American based robotics companies are in the midst of another strong year, with new orders up 20%, according to new statistics released by Robotic Industries Association (RIA), the industry's trade group.

A total of 16,363 robots valued at $1.1 billion were ordered in the first nine months by companies in North America, an increase of 20% in units and 29% in dollars over the same period in 2011. Including numbers from outside North America, the totals are 18,844 robots valued at $1.25 billion.
The automotive OEM and component suppliers remain the robotics industry's biggest customers, accounting for 64% of the new orders through the third quarter. Sales to these two segments rose 45% through September.
Other industries with increased robot orders include metalworking (up 13%) and life sciences/pharmaceutical/biomedical (up four percent).
"The strong automotive-related orders in 2012 are especially impressive given that sales to automotive tier suppliers and OEMS jumped by even greater amounts in 2011 (77% to automotive component suppliers, 59% to automotive OEMS)," said Jeff Burnstein, RIA's President.
"The strong growth in 2012 continues to reinforce the significant value that robots provide as a productivity tool for major US manufacturing companies. While automotive remains the largest market, interest across a wide range of both manufacturing and non-manufacturing companies continues to build and will provide the foundation for long-term industry growth," said John Dulchinos, President & CEO at Adept Technology, who Chairs the RIA Statistics Committee and serves on the RIA Board of Directors.
RIA estimates that some 225,000 robots are now at use in United States factories, placing the US second only to Japan in robot use. "Many observers believe that only about 10% of the US companies that could benefit from robots have installed any so far," Burnstein said, "and among those that have the most to gain from robots are small and medium sized companies."
To help reach small and medium sized companies, RIA is one of the sponsors of Automate 2013, North America's broadest automation solutions show and conference. Slated for January 21-24 at Chicago's McCormick Place, the event focuses on how robots, vision, motion control and related automation technologies can help solve challenges faced by companies of all sizes in every industry. The event is collocated with ProMat 2013, North America's leading event for materials handling and logistics.
Drew Greenblatt, President of Marlin Steel, and Matt Tyler, President & CEO of Vickers Engineering will be among the business leaders discussing how automation helped make their small companies more successful global competitors. They will participate in a special session following a free keynote address by Steve Forbes, Chairman and Editor in Chief, Forbes Media, at 9 am on Tuesday morning, January 22. More than 150 companies will exhibit at Automate, including more than 30 complete system suppliers. For full show and conference details, visit the Automate 2013 website.
Founded in 1974, RIA represents some 300 member companies, including leading robot manufacturers, system integrators, end users, research groups, and consulting firms. RIA's quarterly statistics report is based on data supplied by member companies representing an estimated 90% of the North American market.
For more information on RIA and the robotics industry, visit Robotics Online or contact RIA Headquarters at 734/994-6088
Featured Product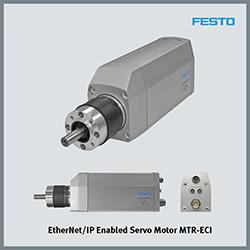 Mechatronic Motion Solutions from Festo is a unique system of components, modules, and software. It integrates all types of pneumatic, servopneumatic and (electro)mechanical automation motion and combines them according to your task. Irrespective of the control system environment you use, Mechatronic Motion Solutions always provides the appropriate interfaces. The fingers can be actively moved and their strength amplified; the operator's hand movements are registered and transmitted to the robotic hand in real time. The objectives are to enhance the strength and endurance of the human hand, to extend humans' scope of action and to secure them an independent lifestyle even at an advanced age.