Packnet, a designer and manufacturer of custom packaging solutions, is a Sponsor of Robotics Alley 2012 Conference.
Eagan, Minnesota October 27, 2012

Packnet, a custom designer and manufacturer of industrial packaging systems announces sponsorship of the Robotics Alley 2012 Conference. This conference includes leading companies, organizations, universities, and individuals that are working together through Robotics Alley and involved in some of the worlds most innovative and promising robotics projects.
Packnet is pleased to be a sponsor for the event and to showcase some unique soft sided case applications," said Dan Schultze, President of Packnet LTD. "Robotics is a fast growing industry and Packnet is extremely proud to be part of the event."
Packnet believes that there are many potential applications using its Soft- Sided Cases for robotics used in law enforcement, security and hazardous material handling.
For more information on Robotics Alley 2012 go to http://roboticsalley.org/.
Featured Product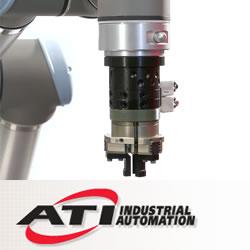 The ATI Robotic Tool Changer provides the flexibility to automatically change end-effectors or other peripheral tooling. These tool changers are designed to function reliably for millions of cycles at rated load while maintaining extremely high repeatability. For this reason, the ATI Tool Changer has become the number-one tool changer of choice around the world. ATI Tool Changer models cover a wide range of applications, from very small payloads to heavy payload applications requiring significantly large moment capacity.