Packnet, a designer and manufacturer of custom packaging solutions, is a Sponsor of Robotics Alley 2012 Conference.
Eagan, Minnesota October 27, 2012

Packnet, a custom designer and manufacturer of industrial packaging systems announces sponsorship of the Robotics Alley 2012 Conference. This conference includes leading companies, organizations, universities, and individuals that are working together through Robotics Alley and involved in some of the worlds most innovative and promising robotics projects.
Packnet is pleased to be a sponsor for the event and to showcase some unique soft sided case applications," said Dan Schultze, President of Packnet LTD. "Robotics is a fast growing industry and Packnet is extremely proud to be part of the event."
Packnet believes that there are many potential applications using its Soft- Sided Cases for robotics used in law enforcement, security and hazardous material handling.
For more information on Robotics Alley 2012 go to http://roboticsalley.org/.
Featured Product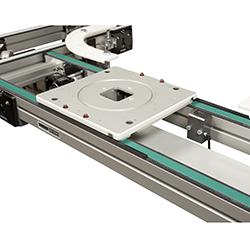 Dorner's 2200 Series Precision Move Pallet Systems feature the latest advancements in pallet traffic management. A unique pin tracking system guides pallets through merges and curves while maintaining product orientation. The fast belt change capability increases efficiency and reduces downtime in assembly automation processes. They are available in lengths up to 25 ft., can handle loads up to 500 lbs. and travel at speeds up to 114 ft/min.