Packnet, a designer and manufacturer of custom packaging solutions, is a Sponsor of Robotics Alley 2012 Conference.
Eagan, Minnesota October 27, 2012

Packnet, a custom designer and manufacturer of industrial packaging systems announces sponsorship of the Robotics Alley 2012 Conference. This conference includes leading companies, organizations, universities, and individuals that are working together through Robotics Alley and involved in some of the worlds most innovative and promising robotics projects.
Packnet is pleased to be a sponsor for the event and to showcase some unique soft sided case applications," said Dan Schultze, President of Packnet LTD. "Robotics is a fast growing industry and Packnet is extremely proud to be part of the event."
Packnet believes that there are many potential applications using its Soft- Sided Cases for robotics used in law enforcement, security and hazardous material handling.
For more information on Robotics Alley 2012 go to http://roboticsalley.org/.
Featured Product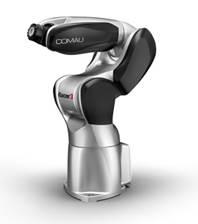 Racer3 is a powerful, high-speed, 6-axis articulated robot featuring a payload of 3kg and a reach of just 630 mm. Built from high-strength aluminum, the newest innovation in Comau robotics is lightweight and can be easily mounted on benches, walls, ceilings or on inclined supports. The third robot within the award-winning Racer family, Racer3 is Comau's response to the growing demand for fast, cost-effective robotic automation within small to medium-sized enterprises and emerging countries. Racer3 is intended for general industry use to increase productivity and reduce overall costs by automating industrial applications. It combines field-proven technology and enhanced dexterity with a keen focus on safety, design and product aesthetics. With a streamlined design and brushed metal exterior, the new powerhouse of a robot combines beauty and speed together with absolute precision and repeatability. Primary applications include assembly, material handling, machine tending, dispensing and pick & place.