The apple and grape industries have an economic impact of about $5.5 billion annually, according to USDA statistics.
Purdue University researchers received $6 million in grants to automate one of the most laborious and costly jobs in vineyards and apple orchards.

Each year, fruit growers spend about 20 percent of their labor costs on pruning vines and trees. Peter Hirst, an associate professor of horticulture, is leading a program to develop and improve machines that use cameras and robotic arms to do the work.
"Many horticulture crops are labor-intensive," Hirst said. "Labor is expensive, and we need to be able to compete on a global scale. Many growers rely on immigrant labor for pruning, but the future availability of this labor is uncertain. Therefore growers are looking for more certain and cost-effective ways to perform tasks such as pruning."
Hirst received a $3 million grant from the U.S. Department of Agriculture's Specialty Crops Research Initiative, with another $3 million in matching funds from industry partners and institutional funds.
"Purdue's land-grant mission puts our scientists in a position to use their knowledge for the public's benefit," said Purdue acting President Timothy Sands. "This is a prime example of how research is translating into benefits for business owners and consumers."
The apple and grape industries have an economic impact of about $5.5 billion annually, according to USDA statistics.
"Purdue Agriculture is proud to partner with Purdue's College of Engineering on this innovative project that will bring significant benefits and economic development to the specialty crop industry, which is very important to the state of Indiana," said Jay Akridge, Glenn W. Sample Dean of the College of Agriculture.
The first part of the project is to improve the prototype of an automated grapevine pruner developed by Vision Robotics of San Diego, a partner in the program. A tractor pulls the machine over grape vines while cameras capture images of the vines and a computer tells robotic arms where the vines should be pruned.
The pruner is at the prototype phase. Hirst said the research and development from this program should move that machine into a commercially available device that would be cost-effective for grape producers.
The group will also start work to automate apple tree pruning. The project aims to model trees and how they should be pruned and to begin design of a robotic pruner. Actually building a robotic pruner for apple trees will have to wait for the next grant and the next project.
"Apple trees are more complex and will take more time," Hirst said. "But once we have that, it should be much smaller steps to translating the work for other fruits such as plums, peaches and cherries."
Purdue will help write the rules for best pruning practices that will be programmed into the robots. Hirst will work with Johnny Park, a Purdue research assistant professor of electrical and computer engineering, and Avi Kak, a professor of electrical and computer engineering, who will build digital 3-D models of trees and vines and design software.
"The challenge is to accurately construct 3-D models of trees and vines and program that in such a way that the computer can determine the optimal points to prune," Park said. "Our goal is to make this work at a speed that makes sense financially for growers."
Featured Product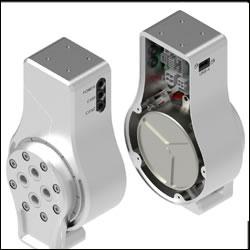 maxon launches the next generation of positioning controllers - the EPOS4. A high performance module with detachable pin headers and two different power ratings. With a connector board, the modules can be combined into a ready-to-install compact solution. Suitable for efficient and dynamic control of brushed and brushless DC motors with Hall sensors and encoders up to 750 W continuous power and 1500 W peak power. The modular concept also provides for a wide variety of expansion options with Ethernet-based interfaces, such as EtherCAT or absolute rotary encoders.