The new Trimble RTS873 Robotic Total Station allows building construction contractors the ability to more easily collect and layout field points using robotic interaction.
Trimble (NASDAQ: TRMB) introduced today the latest hardware and software for its Trimble® Field Link for MEP and Trimble Field Link for Structures construction layout solutions. Incorporating an auto-focus green laser that replaces the eyepiece, the new Trimble RTS873 Robotic Total Station allows building construction contractors the ability to more easily collect and layout field points using robotic interaction.

In addition to the new total station, the solutions include the new Trimble Field Tablet with multi-touch gesture control that provides a fluid, touch-based interface to 3D models and common layout routines within the Trimble Field Link version 2.0.0 software.
The announcement was made at Trimble Dimensions 2012.
By interacting directly with the Trimble VISION™ live video feed on the Trimble Field Tablet, contractors can remotely view and measure field points within the Trimble Field Link software. This allows contractors to move away from the total station, eliminating the need for manual sighting of points to be measured. The auto-focus green laser pointer provides enhanced visibility and more accurate positioning when using Visual Layout with Trimble Field Link for MEP to lay out overhead hangers or collecting as-built locations in bright daylight conditions. The unique ability of the RTS873 to focus the green laser at the defined measurement distance minimizes the "laser spread" commonly seen with current total station designs.
A complement to the new hardware, the Trimble Field Link version 2.0.0 software running on Trimble tablets includes the ability for contractors to view their design files in 3D in all map views that were previously only displayed in 2D. This allows contractors to create, select, and lay out points from a 3D view. Another new feature in the software, Collect Floor Plan, offers the ability to automatically collect a virtual footprint of a room using the total station to measure walls or interior facades. Perfect for adaptive re-use and renovation projects, the collected floor plan data can be used in conceptual design applications such as SketchUp to easily create a 3D design model for use by architects, engineers and building contractors.
While the base features of Trimble Field Link software are the same for MEP, concrete, steel trades and general contractors, Trimble has developed a new module specifically for structures contractors. Ideal for concrete and general contractors, the new Surface module allows the user to define a surface boundary and points by grid spacing or total number of points to be collected. The surface can then be collected manually with a prism or automatically using Direct Reflex. Once collected, Trimble Field Link can generate a report that will produce a color-coded topographical map of the surface showing enclosed high and low areas based on user defined reference elevation and tolerance. A PDF report can be generated including the topographic representation as well as areas and volumes of enclosed high and low areas and percentage of surface defined as high, low, or in tolerance.
The new Trimble RTS873 and Trimble Field Tablet are expected to be available in November 2012 through Trimble's Authorized Distributors of layout solutions for MEP and Structures contractors. Trimble Field Link version 2.0.0 and the Surface module are available now to new and current software license holders.
Featured Product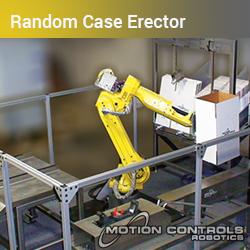 Random Case Erectors are ideal for fulfillment centers and other end-of-line packaging needs. Save money by eliminating changeover downtime. Reduce ergonomic injuries by eliminating repetitive manual tasks. The Random Robotic Case Erector System includes: • FANUC M20iA/20 Robot • Combi gravity case magazine - holds 2 box sizes • Combi bottom flap folder with integrated 3M case sealing head. • Fixed robot base, anchored to the floor • Flexible end of arm tool to pick and erect multiple case sizes to eliminate changeover downtime • System wiring and controls • Color 7.5" touchscreen HMI display for selecting case size • Perimeter guarding with safety interlocks on doors • Programming for Robot, PLC/PMC, HMI and Vision • Complete documentation in electronic format • On-site training and support • Compliance with all applicable robotic safety standards. Alternate safety configuration may be available to allow an operator to changeover a case size in one magazine while the robot continues to work in other magazines. Contact Motion Controls Robotics to learn more about how to implement this system into your current end-of-line operations.