An estimated 225,000 robots are used in factories here
12/05/2012

Robotics companies based in North America are enjoying another strong year, with new orders up 20%, according to the Robotic Industries Assn. (RIA). An estimated 225,000 robots are used in factories here; the U.S. is second only to Japan in robot use. It's still only the tip of the iceberg in market potential, however.
North American companies ordered 16,363 robots valued at more than $1 billion in the first nine months, a unit increase of 20% and value increase of 29% compared with the same period in 2011. Including numbers from outside North America, the totals are 18,844 robots valued at $1.25 billion.
The automotive OEM and component suppliers remain the robotics industry's biggest customers, accounting for 64% of the new orders through the third quarter. Sales to these two segments rose 45% through September. That's particularly impressive given that 2011 growth was also strong - 77% growth for automotive component suppliers and 59% for automotive OEMs, noted Jeff Burnstein, RIA's president.
The robotics market shows significant room for growth, Burnstein indicated. "Many observers believe that only about 10% of the U.S. companies that could benefit from robots have installed any so far," he said. "Among those that have the most to gain from robots are small and medium-sized companies."
Featured Product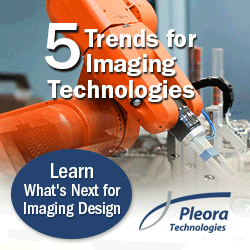 Technology development moves at a dizzying pace and the machine vision industry is no exception. Specific to imaging there is consistent innovation aimed at improving efficiencies, costs, and intelligence. Over the past 12 months, for example, new USB3 Vision™ products have driven the design of higher bandwidth, plug-and-play solutions for imaging applications. What's next for machine vision? This article examines five trends that are expected to influence imaging system design. Sign up at right to receive news and updates on the latest vision technology for medical imaging and you'll receive Five Trends for Imaging Technologies free!