This single mini controller works with both electric and pneumatic actuators
Happauge, NY December 04, 2012

The Festo CECC is the first mini controller with IO-Link master and CoDeSys V3 for the water treatment industry. The CECC controller is designed to reduce installation times, simplify programming, and enable fast and cost-effective control of sensors and valve actuators - either electric or pneumatic.
The CECC is a control solution for small to mid-sized treatment systems. Despite its modest dimensions, the CECC's variety of interfaces allows it to handle the various electric and pneumatic automation tasks found in a treatment facility. CECC can be easily and reliably integrated into higher-level systems.
Fast diagnostics
A major advantage of the CECC is its IO-Link master with four channels. While the traditional sensor/actuator interface only transmits 0 or 1, the new Festo mini controller with IO-Link master features an almost unlimited data interface. This enables treatment diagnostics down to the I/O connection point for easier troubleshooting.
"Festo took its industrial automation and water industry expertise and developed pneumatic and electric actuation components and control systems optimized for small to medium sized water treatment facilities," said Craig Correia, water industry segment manager, Festo. "This reduces engineering time for retrofits and new installations. It ensures lower labor costs during operation. Our solution lowers risk."
For more information about the compact CECC controller with IO-Link master and how this new solution can contribute to faster start up, lower labor costs, and improve operations, call Festo at 800-993-3786 and visit http://www.festo.com/us. Connect with Festo: Facebook and YouTube.
About Festo
Festo is a leading manufacturer of pneumatic and electromechanical systems, components, and controls for process and industrial automation. For more than 40 years, Festo Corporation has continuously elevated the state of manufacturing with innovations and optimized motion control solutions that deliver higher performing, more profitable automated manufacturing and processing equipment.
Featured Product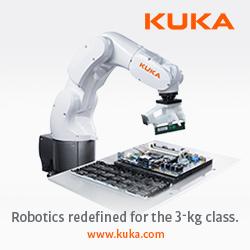 Great advances often start with small steps - in manufacturing cells measuring only 600 × 600 mm. Here, the KR 3 AGILUS is in its element. Particularly in the case of small parts and products which must be produced in a minimum of space. KUKA expertise, concentrated into the smallest of spaces, is setting new standards for the 3-kg class. The lightweight robot masters various tasks with agility, dynamism and maximum precision, leading to high flexibility in production - even when it comes to extremely narrow spaces.