DARPA calls on small firms' innovative science and technology research for national security and potential defense market/commercial applications
Small businesses may submit proposals to nine DARPA technical challenge topics through the Small Business Innovation Research (SBIR) program's Department of Defense FY 2013.1 solicitation, which opened Dec. 17.

DARPA's topics span the following tech areas: Materials/Processes, Electronics, Biomedical, Human Systems, Information Systems, Sensors and Space Platforms and range in focus from a portable, inexpensive and easy-to-use EEG device for medics in the field; to innovative techniques to automatically detect and patch vulnerabilities in networked, embedded systems; and integrated microsystems to sense and control warfighter physiology to enable extreme military dive operations.
For details of DARPA's nine solicitation topics and proposal submission process: http://www.dodsbir.net/solicitation/sbir131/darpa131.htm
"Small business R&D efforts may introduce disruptive technology or may identify breakthrough approaches to technology barriers that mitigate risk for larger DARPA programs," said Susan Nichols, director of DARPA's Small Business Programs Office. "The benefit for small businesses is commercializing the technology they develop to support defense and civilian uses."
To learn more about DARPA's small business opportunities through the SBIR and Small Business Technology Transfer (STTR) programs: http://www.darpa.mil/Opportunities/SBIR_STTR/.
Featured Product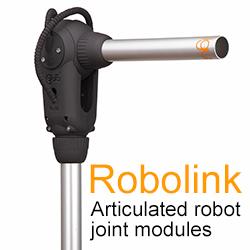 Robolink: Articulated joint modules for robots. igus® now offers a lightweight, maintenance- and corrosion-free range of robot joints for humanoid systems or other automated applications. The carbon-fiber plastic joints can rotate and oscillate freely via four wire ropes. No more expensive milling, cutting or DIY systems. Moving mass is reduced to a minimum. The actuators (engines, pneumatics and hydraulics) and the control module (DP, PC) are kept separate. Contact igus® for more information and free samples.