New for 2013 LawnBott LB75 will be first seen at Louisville Home Improvement Expo, January 4-6, 2013.
Atlanta, GA January 02, 2013

LawnBott of Greater Louisville, the exclusive LawnBott robotic mower dealer for the greater Louisville area, is proud to announce the first ever showing of the brand new LawnBott LB75 robotic mower at the Louisville Home Improvement Expo, Booth #550, January 4-6, 2013 at the Kentucky International Convention Center.
Representatives from Kyodo America Industries, makers of the LawnBott, will be on hand at the show assisting LawnBott of Greater Louisville to help introduce the LB75 to homeowners attending the show.
The LawnBott LB75 ushers in a new era in robotic mower design utilizing a centrally located drive system to let the LB75 turn on a dime, making it better suited to yards with complex shapes. Fully automatic, the LB75 works on weekly schedule set by the homeowner to constantly keep the yard well-trimmed, no more overgrown lawns!
As with all LawnBott models, the LB75 is powered by rechargeable Lithium-ion batteries for emissions free mowing! With the LawnBott, the yard gets cut without all the smog and noise associated with conventional gas powered mowers. Using only about $7-10 per year in electricity, the LawnBott is great for the lawn and great for the environment.
As a LawnBott Authorized Dealer, LawnBott of Greater Louisville will consult with the homeowner to find the right model for their yard and professionally install the LawnBott. With models able to cover small lots up to almost 2 acres, there is a LawnBott for almost every yard.
Kyodo America Industries, Co., LTD, is an Atlanta, GA based manufacturer of lawn & garden products and the LawnBott robotic mowers. LawnBott's were originally developed in Italy and are the leading robotic mower in Europe. Since 2000, our robotic mowers have been helping homeowners maintain their yards without the sweat and aggravation of conventional mowers. To find out more, please visit our website at http://www.LawnBott.com.
Featured Product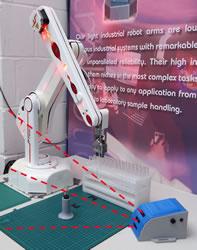 The 6-axis version of the R17HS high speed variant of the R17 robot is now available. As is our policy the 6th axis is an optional bolt-on module. At the same time we have made it even faster and new software eliminates shake and greatly improves repeatability as this video shows. Please see https://www.youtube.com/watch?v=3wG0MeiJ-yE. The video would seem to imply a repeatability of 0.01mm but we are sticking with 0.2mm in the spec. The motor specialist was able to tune the motors from the other side of the pond. My first reaction when we put power on and entered the first commands was to jump back in amazement (and maybe an expletive). Tip speed is now 3m/s; that's 3 times as fast as its nearest competitor yet costs half the price. I love it when a plan comes together.