Innovative design improves sortation speeds while reducing cost per unit and noise levels
ELK GROVE, Ill. - Wynright Corporation, a leading independent, U.S.-based provider of intelligent material handling systems, today announced the introduction of Automotion™ AutoSort 20, a sliding shoe sortation conveyor designed to help distribution centers to improve sortation speed rates by up to 25%.

Automotion™ AutoSort 20The Automotion ™ AutoSort 20 has the capability to achieve a speed of 600 feet per minute in distribution centers, which would enable single side sort rates of 250 to 300 cases per minute and a double sided sort rate up to 150 cartons per minute. It also reduces noise levels over earlier systems by as much as six decibels, and provides an ease of installation not found in existing sliding shoe sortation conveyors.
"The AutoSort 20 provides the flexibility to adapt to any distribution center's unique sortation needs now and well into the future," said John Hejmanowski, Vice President, Wynright Corporation. "It is easy to install and provides flexible design configurations that enable companies to work around structural conflicts such as building columns. At a comparable price to earlier systems, AutoSort 20 provides a higher case rate which ultimately leads to a lower cost per unit out the door."
The agile design of the AutoSort 20 can help meet the needs of distribution centers who are anticipating significant growth over the next three to five years, as well as those companies that have seasonal peaks that they must plan and adjust for annually.
The divert station does not require the special engineering common with other sliding shoe sortation conveyors, enabling companies to get the AutoSort 20 up and running much quicker than other systems on the market. In addition, the AutoSort 20 has an automatic chain oiler and provides unobstructed access for routine maintenance, including removable side panels.
The ease with which the AutoSort 20 can be installed means that it's scalable since divert stations can be easily added in the future. Also, the sorter can be reconfigured, even to move it into another building. The AutoSort 20 comes with electric divert switches, which do not require any pneumatic air support and can be easily repositioned. The divert stations can be changed without requiring any special re-engineering or rebuilding.. This is crucial when adding downlines or changing the sorters footprint to accommodate the clients changing needs.
"AutoSort 20 provides the innovative speed to market that Wynright has been providing to the materials handling industry for 40 years," Kevin Ambrose, CEO of Wynright Corporation, said. "AutoSort 20 enables companies to get their conveyors up and running quickly to meet the unique demands of their growing businesses, while lowering overall distribution costs. This is just the latest example of how Wynright's engineering expertise is meeting customer demands not just today, but for years to come."
About Wynright
Wynright Corporation is the nation's leading independent, U.S.-based provider of intelligent material handling systems. With more than 200 engineers in-house, the company designs, manufactures, integrates and installs the full spectrum of intralogistics solutions, offering both Wynright-branded and third-party equipment to meet customer needs. These include leading-edge conveyor and sortation systems, voice and light directed order fulfillment equipment, a suite of warehouse controls & execution software, robotics, mezzanines, and structures, all backed by critical round-the-clock service and support.
Since its founding in 1972, Wynright has been a trusted partner to some of the world's largest and fastest-growing companies, showing them how to use their space more efficiently to deliver improved productivity, today and tomorrow. For more information on our services, technology and product portfolio, please visit the website.
Featured Product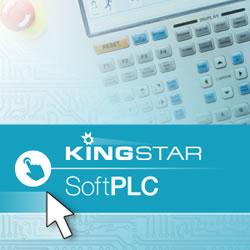 The top machine builders are switching from proprietary hardware-based PLCs, like Allen-Bradley, TwinCAT, Mitsubishi and KEYENCE, to open standards-based EtherCAT-enabled software PLCs on IPCs. KINGSTAR provides a fully-featured and integrated software PLC based on an open and accessible RTOS. KINGSTAR Soft PLC also includes add-on or third-party components for motion control and machine vision that are managed by a rich user interface for C++ programmers and non-developers alike.