ATI's products are integrated into many industries, including: Aerospace, assembly, automotive, fabricating, finishing, material handling, packaging, welding, medical, and more.
ATI Industrial Automation, a world-leading, engineering-based developer of robotic peripheral equipment, including Automatic Tool Changers, Multi-Axis Force/Torque Sensing Systems, Utility Couplers, Robotic Deburring Tools, Robotic Collision Sensors and Compliance Devices, will exhibit new products and solutions at Automate 2013, Booth #640, McCormick Place North, Chicago, Illinois, January 21-24, 2013. ATI's booth will feature live demonstrations of their cutting-edge products in action and other exhibitors will also have live robot demonstrations featuring ATI products. ATI's products are integrated into many industries, including: Aerospace, assembly, automotive, fabricating, finishing, material handling, packaging, welding, medical, and more.

Some of the products highlighting the ATI booth are: QC-001 Micro Tool Changers developed for high-speed "spider" or parallel link robots with extremely light payloads. Multi-Axis Force/Torque Sensors that enable robots to use force control for automating a variety of challenging applications including difficult assembly, machining, and finishing tasks. Nut Runner Tool Changers (Through-Hole Tool Changers) featuring square drive components for passing a torque tool from a nut runner to various socket end-effectors. Tool Changer Modules for Aluminum Joining: Newly-developed Utility Modules supporting the high current demands associated with aluminum welding. Modules also available for self-piercing rivets and flow-drill screws. Manual Tool Changers: A cost-effective and repeatable solution for quickly changing tools by hand.
Catherine Morris, ATI's Director of Automotive Sales and RIA Chair states, "Everyone today is looking for a competitive edge - Automate 2013 is the show where you can find that edge and find answers to all kinds of automation challenges. You will see automation solutions that incorporate robots, vision, motion control, sensors, assembly systems, etc. right on the show floor. You may also attend conference sessions that will provide practical training taught by experienced industry professionals who know your challenges."
ATI's robot end-effector products are found in thousands of successful applications around the world. ATI's flagship product is the Robotic Tool Changer, a robotic wrist coupler that locks and unlocks automatically, allowing a single robot to perform many different tasks. ATI remains focused on developing cost-effective, state-of-the-art products and solutions that improve robotic productivity. Customers choose ATI products for their unmatched quality, reliability, precision, and strength.
For additional information about ATI products or solutions visit Booth #640 at the show, or contact ATI Industrial Automation, www.ati-ia.com.
Featured Product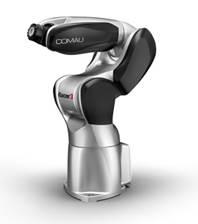 Racer3 is a powerful, high-speed, 6-axis articulated robot featuring a payload of 3kg and a reach of just 630 mm. Built from high-strength aluminum, the newest innovation in Comau robotics is lightweight and can be easily mounted on benches, walls, ceilings or on inclined supports. The third robot within the award-winning Racer family, Racer3 is Comau's response to the growing demand for fast, cost-effective robotic automation within small to medium-sized enterprises and emerging countries. Racer3 is intended for general industry use to increase productivity and reduce overall costs by automating industrial applications. It combines field-proven technology and enhanced dexterity with a keen focus on safety, design and product aesthetics. With a streamlined design and brushed metal exterior, the new powerhouse of a robot combines beauty and speed together with absolute precision and repeatability. Primary applications include assembly, material handling, machine tending, dispensing and pick & place.