"Customers can trade-in their older products for cost effective, like-new, refurbished products, based on an accelerated implementation process."
SAN JOSE, Calif.--Genmark Automation Inc., a leading developer and manufacturer of intelligent robots and turnkey automation solutions for semiconductor production equipment applications, today announced the expansion of its Global Service solutions to include "FastExchange" product refurbishing programs for all main product lines (robots, aligners, controllers) currently operating at fabs in Asia, Europe and USA.

Genmark's most popular robotic product models such as GB4/S/P, GB7, GB8, and GRex, are included in the expanded product Refurbishment Program.
Customers that participate in the new Refurbishing Program are able to request and receive very quickly a factory-certified refurbished robot product, and Genmark will accept their robot as trade-in.
All factory-certified refurbished products are subject to extensive performance tests and feature one-year parts / service warranty. Most importantly, participating customers have exclusive access to the latest product firmware and engineering documentation updates.
"Our expanded "FastExchange" Refurbishment Program demonstrates our full commitment to exceed our customer's productivity goals and supporting our products long term," said Greg Liebersbach, Director of Service at Genmark. "Customers can trade-in their older products for cost effective, like-new, refurbished products, based on an accelerated implementation process.
The "FastExchange" Product Refurbishment Program is now available to customers worldwide.
About Genmark Automation Inc.
Genmark Automation, Inc. is a worldwide designer and producer of high precision robotic systems, motion controllers, industrial control software and fully integrated material handling automation solutions for the global semiconductor equipment, data storage, flat panel display, solar PV, LED, and related industries. Genmark products and services offer customers technologically sophisticated hardware and software automation solutions for both atmospheric and vacuum environments. Worldwide OEM and FAB customers leverage Genmark Automation's technologies to maximize equipment productivity in dynamic manufacturing environments. More information about Genmark is available at www.genmarkautomation.com.
Featured Product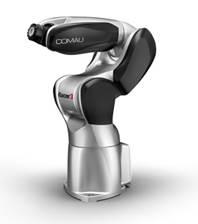 Racer3 is a powerful, high-speed, 6-axis articulated robot featuring a payload of 3kg and a reach of just 630 mm. Built from high-strength aluminum, the newest innovation in Comau robotics is lightweight and can be easily mounted on benches, walls, ceilings or on inclined supports. The third robot within the award-winning Racer family, Racer3 is Comau's response to the growing demand for fast, cost-effective robotic automation within small to medium-sized enterprises and emerging countries. Racer3 is intended for general industry use to increase productivity and reduce overall costs by automating industrial applications. It combines field-proven technology and enhanced dexterity with a keen focus on safety, design and product aesthetics. With a streamlined design and brushed metal exterior, the new powerhouse of a robot combines beauty and speed together with absolute precision and repeatability. Primary applications include assembly, material handling, machine tending, dispensing and pick & place.