"Customers can trade-in their older products for cost effective, like-new, refurbished products, based on an accelerated implementation process."
SAN JOSE, Calif.--Genmark Automation Inc., a leading developer and manufacturer of intelligent robots and turnkey automation solutions for semiconductor production equipment applications, today announced the expansion of its Global Service solutions to include "FastExchange" product refurbishing programs for all main product lines (robots, aligners, controllers) currently operating at fabs in Asia, Europe and USA.

Genmark's most popular robotic product models such as GB4/S/P, GB7, GB8, and GRex, are included in the expanded product Refurbishment Program.
Customers that participate in the new Refurbishing Program are able to request and receive very quickly a factory-certified refurbished robot product, and Genmark will accept their robot as trade-in.
All factory-certified refurbished products are subject to extensive performance tests and feature one-year parts / service warranty. Most importantly, participating customers have exclusive access to the latest product firmware and engineering documentation updates.
"Our expanded "FastExchange" Refurbishment Program demonstrates our full commitment to exceed our customer's productivity goals and supporting our products long term," said Greg Liebersbach, Director of Service at Genmark. "Customers can trade-in their older products for cost effective, like-new, refurbished products, based on an accelerated implementation process.
The "FastExchange" Product Refurbishment Program is now available to customers worldwide.
About Genmark Automation Inc.
Genmark Automation, Inc. is a worldwide designer and producer of high precision robotic systems, motion controllers, industrial control software and fully integrated material handling automation solutions for the global semiconductor equipment, data storage, flat panel display, solar PV, LED, and related industries. Genmark products and services offer customers technologically sophisticated hardware and software automation solutions for both atmospheric and vacuum environments. Worldwide OEM and FAB customers leverage Genmark Automation's technologies to maximize equipment productivity in dynamic manufacturing environments. More information about Genmark is available at www.genmarkautomation.com.
Featured Product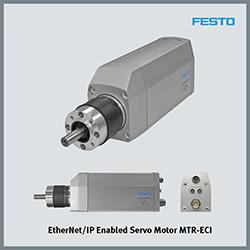 Mechatronic Motion Solutions from Festo is a unique system of components, modules, and software. It integrates all types of pneumatic, servopneumatic and (electro)mechanical automation motion and combines them according to your task. Irrespective of the control system environment you use, Mechatronic Motion Solutions always provides the appropriate interfaces. The fingers can be actively moved and their strength amplified; the operator's hand movements are registered and transmitted to the robotic hand in real time. The objectives are to enhance the strength and endurance of the human hand, to extend humans' scope of action and to secure them an independent lifestyle even at an advanced age.