HELUKABEL® will be participating at Automate 2013 being held January 21 - 24 in Chicago, IL to showcase their automation cabling expertise.
Automate 2013 provides industry-leading companies from around the world an opportunity to display their latest technologies, equipment and systems, and interface directly with customers involved in the buying process from OEMs, machine builders, distributors, and research and labs, to name a few.

Located at booth #844, HELUKABEL® USA representatives will feature their vast selection of high-quality cables and cable accessories, which guarantee durable and reliable components capable of handling the high mechanical stress and repetitive movements of automation. Among the cable options on display will be data cables such as the PROFInet Type C Industrial Ethernet cable and PROFIbus L2 BUS cable, and the JZ-602 RC power cable.
The PROFInet Type C Industrial Ethernet is a polyurethane (PUR)-jacketed, copper data cable designed especially for heavy duty industrial applications. Its construction ensures superior transmission properties and allows it to be used during the most severe operating conditions. The PROFInet Type C Industrial Ethernet cable has a broad operating temperature range (-40°C to +80°C; -40°F to +176°F) and is suitable for use in torsion applications, such as robotic operations.
Automate-2013
The PROFIbus L2 BUS cable has been designed for use in both torsional and flexing/festoon applications to connect PROFIbus BUS components between the control unit and the machine. Designed with PUR or PVC jackets, the L2 BUS is capable of withstanding operating temperatures between -25°C to +75°C (-13°F to +167°F), jacket material and application dependent. Suitable applications include robotics and cranes.
For export-oriented manufacturers, the JZ-602 RC is a UL, CSA, and GOST-R approved control power cable suitable for use in cable tracks for machines, machine tools, robots and automated machine parts that require continuous flexing cycles. This special PVC-jacketed cable is UV-resistant, can withstand temperatures from -40°C to +90°C (-40°F to +194°F) depending on the application, and can be used in dry, moist, or wet working environments. For applications that produce large amounts of electromagnetic interference (EMI), the JZ-602 RC has a shielded variant, the JZ-602 RC-CY, which prevents signal interference or "cross talk," and can be used to ground the cable when connected to a metallic cord grip.
HELUKABEL® USA
www.helukabel.com
Featured Product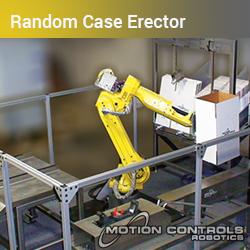 Random Case Erectors are ideal for fulfillment centers and other end-of-line packaging needs. Save money by eliminating changeover downtime. Reduce ergonomic injuries by eliminating repetitive manual tasks. The Random Robotic Case Erector System includes: • FANUC M20iA/20 Robot • Combi gravity case magazine - holds 2 box sizes • Combi bottom flap folder with integrated 3M case sealing head. • Fixed robot base, anchored to the floor • Flexible end of arm tool to pick and erect multiple case sizes to eliminate changeover downtime • System wiring and controls • Color 7.5" touchscreen HMI display for selecting case size • Perimeter guarding with safety interlocks on doors • Programming for Robot, PLC/PMC, HMI and Vision • Complete documentation in electronic format • On-site training and support • Compliance with all applicable robotic safety standards. Alternate safety configuration may be available to allow an operator to changeover a case size in one magazine while the robot continues to work in other magazines. Contact Motion Controls Robotics to learn more about how to implement this system into your current end-of-line operations.