METALCON International is the only annual conference and exposition focused on metal construction products, technologies and solutions.
January 28, 2013, Newton MA - The latest member of the METALCON International team

is virtually all over the map. Called ME, this cheerful, resilient character is being spotted at points
all across the country and in cyberspace. His journey reaches from www.metalcon.com through all
levels of electronic media to offices of architects, contractors and building owners around the
world and in projects that feature metal. He's also being seen in person at different industry
events.
"Our ME companion is leading the charge to create awareness of METALCON
International in all phases of electronic and print media - and in person. ME has a touch of green
as a reminder that metal is a green material. He's also our social media expert, making his way
through Facebook and Twitter. He's our traveling road scholar for all things metal - showcasing
projects of METALCON exhibitors, and acting as an industry liaison that appears at meetings,
events and conferences. He will of course be at the 23rd METALCON in Atlanta this October,"
notes Claire Kilcoyne, Show Director for METALCON International.
METALCON International is the only annual conference and exposition focused on metal
construction products, technologies and solutions. The 23rd METALCON International takes place
October 1-3 at the Georgia World Congress Center in downtown Atlanta, Georgia.
ME will appear in all METALCON materials and is the latest promotional tool made
available to all exhibitors and promotional partners. Each year show management creates new
methods for participating companies and organizations to promote their presence at METALCON.
Previously introduced tools such as the interactive a2z application allow direct communication
between mobile devices of attendees and exhibitors and the show's website prior to and during
the event. This allows attendees to download plans for the show and for exhibitors to send
updates on their exhibit and products.
METALCON - The one event for metal construction products, technologies and solutions.
Plans for the 2013 METALCON are well under way with more than 85% of booth space
filled and expansion of the education format that shifts from a traditional 1.5-hour multiple-track
program to longer 3-hour sessions tailored to specific disciplines. Modified successfully for 2012
program, the new format offers more indepth learning opportunities both in the classroom and on
the exhibit floor.
METALCON draws designers, builders, developers, contractors, fabricators, and suppliers
from more than 52 countries. Experts from more than 300 companies exhibit the latest products
and technology and share their knowledge with attendees, while industry specialists present key
topics in the education program. Specialists from the Metal Construction Association and other
industry related associations also present the latest applications and field techniques in daily
demonstrations in the exhibit hall.
METALCON is produced by Newton, MA-based PSMJ Resources, Inc. and sponsored by
the Metal Construction Association. MCA is an organization of leading manufacturers and
suppliers headquartered in Glenview, IL. PSMJ is the world's leading authority on the effective
management of architecture, engineering and construction firms.
For general information about METALCON, visit www.metalcon.com or call PSMJ
Resources, Inc./METALCON800-537-7765. For information about exhibiting contact METALCON's
Featured Product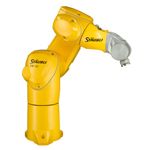 TX2 series of robots: the next generation of fast and precise 6-axis robots. This new robot range is redefining performance with the optimum balance of speed, rigidity, size and envelope. Those pioneer robots can be used in all areas, including sensitive and restrictive environments thanks to their unique features. Known worldwide for the quality of our design and innovation for more than a century, the Stäubli Group has brought its renowned engineering expertise and technological ingenuity to the forefront of robotics. Since 1982, we have built a highly regarded robotics business, and more significantly, transformed the way thousands of manufacturing operations perform. Today Stäubli Robotics is a leading player in robotics around the world, consistently delivering engineering as effective and reliable as our service and support.