Both "deep welding" and "heat conduction welding" are possible
Reis Robotics presents its newly developed laser robot RV60-26-FT for laser welding and laser hybrid welding. This laser robot is offers improved load capacity for the new process technology, a higher transmittable laser power, a bigger reach, and extended interfaces and adjusting features. It is possible to transfer fiber, disk, or diode lasers up to 16 kW laser capacity due to the field proven integrated laser beam guidance and the welding optics MWO54. It is possible to set the focal point diameter via the robot control; hence, both "deep welding" and "heat conduction welding" are possible. The integrated cable channel in the upper arm of the robot structure ensures the 3D mobility of the system.

The solution for laser hybrid welding is unequaled. Depending on the design, the weld robot including sensors can be guided via the 6th robot axis without additional adjusting axes.
Reis Robotics sees applications in the rail vehicle, container, heavy construction, building construction, and in the automotive industries. Economical welding of crane jibs, side walls for railway wagons, and bumpers for vehicles is possible.
About Reis Robotics
Reis Robotics is an innovative company leading in robot technology and system integration.
The Reis Robotics group, with international activities, is headquartered in Obernburg, Germany and is a market leader for automation systems in the photovoltaic industry. For more than two decades, Reis has been one of the most important integrators for automation systems in all major industry sectors. In addition to articulated arm robots, the product range also includes linear robots, gantries, horizontal articulated arm robots, and other special robots. Additional products include Try-out and Spotting Presses as well as Trim Presses and Trim Tools.
REIS ROBOTICS designs, delivers, and installs completely integrated automation systems from one source. Since 1957, our success is based on the great experience gained during the planning and execution of turnkey automation systems. For this, Reis Robotics offers a broad product range of industrial robots (welding robots, casting robots, handling robots, laser robots, and many others), peripheral modules and services for automation solutions in all major application fields.
Featured Product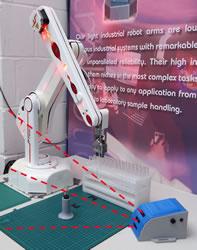 The 6-axis version of the R17HS high speed variant of the R17 robot is now available. As is our policy the 6th axis is an optional bolt-on module. At the same time we have made it even faster and new software eliminates shake and greatly improves repeatability as this video shows. Please see https://www.youtube.com/watch?v=3wG0MeiJ-yE. The video would seem to imply a repeatability of 0.01mm but we are sticking with 0.2mm in the spec. The motor specialist was able to tune the motors from the other side of the pond. My first reaction when we put power on and entered the first commands was to jump back in amazement (and maybe an expletive). Tip speed is now 3m/s; that's 3 times as fast as its nearest competitor yet costs half the price. I love it when a plan comes together.