Both "deep welding" and "heat conduction welding" are possible
Reis Robotics presents its newly developed laser robot RV60-26-FT for laser welding and laser hybrid welding. This laser robot is offers improved load capacity for the new process technology, a higher transmittable laser power, a bigger reach, and extended interfaces and adjusting features. It is possible to transfer fiber, disk, or diode lasers up to 16 kW laser capacity due to the field proven integrated laser beam guidance and the welding optics MWO54. It is possible to set the focal point diameter via the robot control; hence, both "deep welding" and "heat conduction welding" are possible. The integrated cable channel in the upper arm of the robot structure ensures the 3D mobility of the system.

The solution for laser hybrid welding is unequaled. Depending on the design, the weld robot including sensors can be guided via the 6th robot axis without additional adjusting axes.
Reis Robotics sees applications in the rail vehicle, container, heavy construction, building construction, and in the automotive industries. Economical welding of crane jibs, side walls for railway wagons, and bumpers for vehicles is possible.
About Reis Robotics
Reis Robotics is an innovative company leading in robot technology and system integration.
The Reis Robotics group, with international activities, is headquartered in Obernburg, Germany and is a market leader for automation systems in the photovoltaic industry. For more than two decades, Reis has been one of the most important integrators for automation systems in all major industry sectors. In addition to articulated arm robots, the product range also includes linear robots, gantries, horizontal articulated arm robots, and other special robots. Additional products include Try-out and Spotting Presses as well as Trim Presses and Trim Tools.
REIS ROBOTICS designs, delivers, and installs completely integrated automation systems from one source. Since 1957, our success is based on the great experience gained during the planning and execution of turnkey automation systems. For this, Reis Robotics offers a broad product range of industrial robots (welding robots, casting robots, handling robots, laser robots, and many others), peripheral modules and services for automation solutions in all major application fields.
Featured Product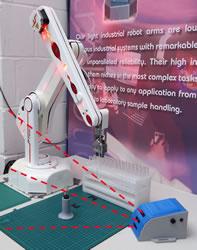 ST Robotics have decades of experience in industrial robots having sold hundreds of robots over the years. The company has 3 main models, R12, R17 and R19 all using a unique simple industrial technology that dramatically reduces costs resulting in the lowest priced industrial robots available. The same uncomplicated technology vastly improves reliability. ST backs this up with a 2 year warranty. Typical applications are routine testing, sample handling and also education. The software is a different paradigm from most robots. It is command based; you type a command and see immediate action. Programming is a building block approach, building confidence as you program in small 'mind-sized bytes'. ST offers free unlimited technical support.