JTS is a full-featured software development kit for SAE JAUS Services.
Neya Systems LLC has announced that it will be providing hosting and support services for the JAUS Tool Set (JTS). JTS is a full-featured software development kit for SAE JAUS Services. Neya has provided technical management and development support for JTS for the past two years, and Neya's staff are all well versed in the creation of SAE JAUS Services, and in the operation and use of JTS. In addition to provide code generation, JTS includes support for documentation generation, GUI-based service creation, and Eclipse integration. JTS is the only fully open source and fully SAE JAUS Compliant toolkit available today.

Neya is proud to provide on going support for JTS, This including providing hosting services, forums with technical support, blogs, maintenance updates, and options for paid support. "We believe JTS is an important asset to the JAUS community, and we are committed to maintaining the only fully open implementation of the SAE JAUS Standard," said Dr. Parag Batavia, president of Neya Systems.
Featured Product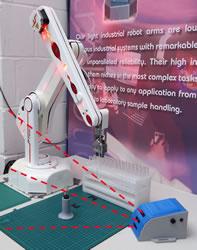 ST Robotics have decades of experience in industrial robots having sold hundreds of robots over the years. The company has 3 main models, R12, R17 and R19 all using a unique simple industrial technology that dramatically reduces costs resulting in the lowest priced industrial robots available. The same uncomplicated technology vastly improves reliability. ST backs this up with a 2 year warranty. Typical applications are routine testing, sample handling and also education. The software is a different paradigm from most robots. It is command based; you type a command and see immediate action. Programming is a building block approach, building confidence as you program in small 'mind-sized bytes'. ST offers free unlimited technical support.