Workers will be able to subject robots to rain, pools of water on the ground, vibration and uneven or even sandy surfaces.
LOWELL, Mass. - It looks, at times, like a miniature skateboard park or a plywood city. But actually it's the new robotics testing facility at the University of Massachusetts Lowell.

The New England Robotics Validation and Experimentation Center (NERVE) opens on the UMass Lowell campus Tuesday. Instead of heading to Maryland or Texas, companies will have local state-of-the-art testing that's up to national standards on their robot designs.
At the new facility, workers will be able to subject robots to rain, pools of water on the ground, vibration and uneven or even sandy surfaces.
"Right now, these companies are having to travel to either Maryland or Texas to use similar courses. And we believe that having these courses closer to companies will basically make robot designs faster and better," said Holly Yanco, a computer science professor at UMass Lowell and director of the NERVE Center.
The state's robotics industry has grown greatly in recent years. According to a new report by the Massachusetts Technology Leadership Council, an industry group, revenues at robotics companies in Massachusetts grew 45 percent from 2008-2011, with sales over $1.9 billion.
"We see this [growth] continuing as robotics and intelligent automation are moving into health care delivery and helping people live longer, safer, more productive and more independent lives," said Tom Hopcroft, CEO of the council.
Yanco said she hopes to eventually help the industry grow into those new areas, moving the NERVE Center beyond testing and into offering development services for small startups.
"We're looking at getting a 3-D printer, a CNC machine and other types of development machines that companies could come in and use since they can't afford their own if they're a really tiny company," Yanco said.
Bedford-based iRobot has already signed on. The company's co-founder and CEO Colin Angle said that kind of collaboration will keep the industry strong and stationary.
"I'm very excited by the doubling- and tripling-down around robotics," Angle said. "Massachusetts becomes the center point of robotics as opposed to the region that invented the industry and then sold it all to somebody else."
Angle added that keeping and growing the industry in Massachusetts also means those companies will invest more back into the community.
Featured Product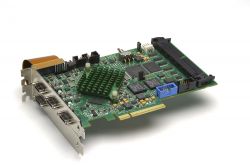 With the introduction of its Cyton and Karbon CXP frame grabbers, BitFlow has established itself as the leader in CoaXPress (CXP), a simple, yet powerful, standard for moving high speed serial data from a camera to a frame grabber. With CXP, video is captured at speeds of up to 6.25 Gigabits/Second (Gb/S). Simultaneously, control commands and triggers can be sent to the camera 20 Mb/S (with a trigger accuracy of +/- 2 nanoseconds). Up to 13 W of power can also supplied to the camera. All this happens over a single piece of industry standard 75 Ohm coaxial cable. Multiple CXP links can be aggregated to support higher data rates (e.g. four links provide 25 Gb/S of data). BitFlow CXP frame grabbers open the door to applications where cable cost, routing requirements and long distances have prevented the move to high resolution, high speed digital cameras. In many cases, existing coaxial infrastructure can be repurposed for CXP with very low installation costs.