Global technology and open web standards development leaders unite to explore current and long-term implications of technologies like Augmented Reality, social robotics, and self-hacking
SXSW 2013

PISCATAWAY, N.J.--IEEE, the world's largest professional organization advancing technology for humanity today announced details of its presence at this year's South by Southwest® (SXSW®) Interactive Festival, March 8-17 in Austin, Texas. IEEE Standards Association (IEEE-SA), in conjunction with the World Wide Web Consortium (W3C) is presenting the "Open Future Series", featuring World Wide Web inventor and W3C Director, Tim Berners-Lee. The series includes an array of conference sessions led by world-renowned speakers, and a public Meetup open to all SXSW badge holders. The IEEE-SA W3C Open Future Series highlights key technology advancements, evolving open web and open standards challenges, and technology's impact on both individuals and the world at large.
"With the rapid pace of technology innovation, what once was labeled disruptive is now not only commonplace but expected. We've reached an inflection point where fully realizing the benefits these technologies bring requires uncommon vision and enlightened stewardship on a global scale"
"With the rapid pace of technology innovation, what once was labeled disruptive is now not only commonplace but expected. We've reached an inflection point where fully realizing the benefits these technologies bring requires uncommon vision and enlightened stewardship on a global scale," said Karen Bartleson, president, IEEE-SA. "At SXSW, IEEE-SA and W3C are bringing together some of the world's foremost technologists and thinkers to explore the implications of today's world-changing technologies, and the vital role they will play in tomorrow's more open, interconnected future."
The IEEE-SA and W3C Open Future Series opens the door to provocative dialog on emerging and evolving technologies with the potential to affect fundamental change. Solo, duo, and panel sessions will delve into technology advancements like the Internet of Things (IoT), cloud computing, Augmented Reality (AR), social robotics, mobile development, and self-hacking. It will also address critical issues impacting OpenStand principles and Open Web Platform, such as policy and governmental regulation, copyright and infringement, disruptive technologies, and more. Detailed descriptions and event information for the following IEEE-SA and W3C SXSW events can be found at http://ieeesa.org/sxsw:
*Open Web Platform: Hopes & Fears - 9 March, 11:00am CST, Exhibit Hall 5, Austin Convention Center. Led by Tim Berners-Lee of W3C, this presentation offers an exploration of the future of the open web.
*Digital Telepathy: When Every Thing Connects - 9 March, 12:30pm CST, Lonestar Room, Omni Downtown. This panel probes the impact of the Internet of Things and unprecedented technology sharing between devices on users' daily lives. Panelists are IEEE-SA Standards Board member Oleg Logvinov, STMicroelectronics; IEEE-SA Standards Board member and Vice Chair, IEEE-SA Corporate Advisory Group , Wael William Diab, Broadcom; Joe Weinman, Telx; and IEEE-SA President, Karen Bartleson, Synopsys.
*IEEE and W3C Open Future Meetup - 9 March, 3:30pm CST, Driskill Ballroom, Driskill Hotel. This meetup offers attendees opportunities to meet IEEE-SA and W3C Open Future Series speakers, as well as special guest, Tim Berners-Lee, and to hear more about OpenStand, Web Platform Docs, and open development from IEEE, W3C, and OpenStand experts. This event is open to all SXSW badge holders.
*Copyright & Disruptive Technologies - 10 March, 3:30pm CST, Room 12AB, Austin Convention Center. This panel addresses copyright issues in the wake of SOPA/PIPA, including civil liberties, free speech, and privacy. Panelists include Andrew Bridges, Fenwick & West LLP; Margot Kaminski, Yale Law School; and Wendy Seltzer, policy counsel, W3C. This panel will be reprised during SXSW Music on 14 March, 3:30pm, Room 11AB, Austin Convention Center as "The Artists' Copyright Conundrum" and features additional speakers Kristelia Garcia, George Washington University Law School; and Karen Thorland, Motion Picture Association of America (MPAA).
*Charismatic Machines and Robot Comedy - 10 March, 5pm CST, SXSW Next Stage, Event Hall 3/4, Austin Convention Center. IEEE member, electrical engineer, and roboticist Heather Knight and comic robotic sidekick, Data, explain how psychology, expressive emotion, behavior system design and art influence the positive evolution of charismatic technology.
*Hack You: The Human Body is the Next Interface - 11 March, 5:00pm CST, Creekside Room, Sheraton Austin. This presentation looks at innovative breakthroughs in "bodytech", its potential to transform the human body and psyche, communications, and society as a whole. Speakers are Andy Goodman and Ji-Hye Park of service design consultancy, Fjord.
*Omnipresent: When Virtual Meets Reality - 12 March, 3:30pm CST, Town Lake Ballroom, Radisson Town Lake. This panel explores the advancements moving Augmented Reality (AR) beyond the virtual and into everyday life, illustrating how the "virtual overlay" tangibly enhances understanding, and revolutionizes training, simulation, design, architecture, medicine, manufacturing, and more. Panelists are IEEE members Christine Perey, Perey Research & Consulting and Blair MacIntyre, Georgia Institute of Technology; Jay Iorio, technology strategist, IEEE-SA; and BC "Heavy" Biermann, The Heavy Projects.
"IEEE serves as a catalyst for the technology-driven change that continues to leave its indelible mark on both individuals and society as a whole. Our career-expanding networking and development opportunities provide technology innovators with a unique platform for creating and advancing the technologies of tomorrow," said Karen McCabe, senior director, strategy, marketing, and product development, IEEE-SA. "SXSW is the ideal backdrop for showcasing the unparalleled value and incredible work being done by organizations like IEEE and W3C."
OpenStand is a framework for establishing a global network of organizations, companies, and institutions dedicated to advancing efficient, effective open standardization processes, environment, and knowledge community. As founding members, IEEE and W3C have and continue to support OpenStand efforts and activities.
For more information about IEEE-SA SXSW sessions and events, please visit http://ieeesa.org/sxsw. To learn more about IEEE-SA, visit us on Facebook at http://www.facebook.com/ieeesa, follow us on Twitter at http://www.twitter.com/ieeesa, connect with us on LinkedIn at http://www.linkedin.com/groups?gid=1791118, or on the Standards Insight Blog at http://www.standardsinsight.com.
About the IEEE Standards Association
The IEEE Standards Association, a globally recognized standards-setting body within IEEE, develops consensus standards through an open process that engages industry and brings together a broad stakeholder community. IEEE standards set specifications and best practices based on current scientific and technological knowledge. The IEEE-SA has a portfolio of over 900 active standards and more than 500 standards under development. For more information visit http://standards.ieee.org/.
About IEEE
IEEE, a large, global technical professional organization, is dedicated to advancing technology for the benefit of humanity. Through its highly cited publications, conferences, technology standards, and professional and educational activities, IEEE is the trusted voice on a wide variety of areas ranging from aerospace systems, computers and telecommunications to biomedical engineering, electric power and consumer electronics. Learn more at http://www.ieee.org.
Featured Product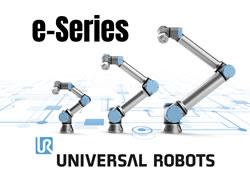 Universal Robots is a result of many years of intensive research in robotics. The product portfolio includes the UR5 and UR10 models that handle payloads of up to 11.3 lbs. and 22.6 lbs. respectively. The six-axis robot arms weigh as little as 40 lbs. with reach capabilities of up to 51 inches. Repeatability of +/- .004" allows quick precision handling of even microscopically small parts. After initial risk assessment, the collaborative Universal Robots can operate alongside human operators without cumbersome and expensive safety guarding. This makes it simple and easy to move the light-weight robot around the production, addressing the needs of agile manufacturing even within small- and medium sized companies regarding automation as costly and complex. If the robots come into contact with an employee, the built-in force control limits the forces at contact, adhering to the current safety requirements on force and torque limitations. Intuitively programmed by non-technical users, the robot arms go from box to operation in less than an hour, and typically pay for themselves within 195 days. Since the first UR robot entered the market in 2009, the company has seen substantial growth with the robotic arms now being sold in more than 50 countries worldwide.