Toradex today announced the release of the datasheet for their new Apalis T30 module.
Horw, Switzerland February 14, 2013

The Apalis T30 is the first product in their new Apalis module family. Complementing the existing Colibri module family, Apalis comes with a wide range of new and exciting features, ensuring you can develop the most advanced, robust products with minimum overhead and risk. Apalis supports a huge variety of industry standard interfaces, while at the same time providing advanced multimedia and high speed connectivity.
The Apalis T30 is a computer module based on the NVIDIA™ Tegra™ 3 embedded System-on-Chip (SoC). The ARM™ Cortex A9 quad core CPU peaks at 4 x 1.3 GHz delivering very high CPU and graphic performance with ultra-low power consumption.
The datasheet is now available from the Toradex website at: http://www.toradex.com/products/apalis-arm-computer-modules/apalis-t30
About Toradex
Founded in Switzerland, today the Toradex network stretches across the world. Its direct sales model and local service approach puts Toradex in regular contact with more than 3,000 customers around the globe. Toradex supplies embedded computer modules for demanding applications and offers premium support service to help its customers rapidly bring product to market. Toradex's strategic vision and long term orientation makes it the company of choice for ambitious and creative people.
Toradex products are deployed within a diverse range of markets and industries. Typical industries include: automotive, medical devices, laboratory equipment, point of sales, gaming machines, navigation systems, musical instruments, machine control, virtual reality simulation, digital signage, traffic control systems, building automation, security systems, robotics, process control and auto pilots.
Swiss. Embedded. Computing.
Meet our engineers at:
ISA Vision Summit, Bangalore, India, February 14-15, 2013
EFY EXPO, Delhi, India, February 21-23, 2013
embedded world, Nuremberg, Germany, February 26-28, 2013
DESIGN West/ESC Silicon Valley, San Jose, USA, April 22-25, 2013
ESC Bangalore, India, July 17-19, 2013
IPC&EMBEDDED EXPO 2013, ShenZhen, China, August 1-3, 2013
DESIGN East/ESC Boston, USA, September 30 - October 3, 2013
Featured Product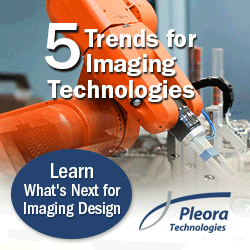 Technology development moves at a dizzying pace and the machine vision industry is no exception. Specific to imaging there is consistent innovation aimed at improving efficiencies, costs, and intelligence. Over the past 12 months, for example, new USB3 Vision™ products have driven the design of higher bandwidth, plug-and-play solutions for imaging applications. What's next for machine vision? This article examines five trends that are expected to influence imaging system design. Sign up at right to receive news and updates on the latest vision technology for medical imaging and you'll receive Five Trends for Imaging Technologies free!