A win-win partnership for advanced research and development initiatives.
CAMARILLO, Calif.--Interlink Electronics, Inc. (OTC: LINK) announced today its affiliation with UC Santa Barbara's Corporate Affiliates Program. Interlink's 28 years of expertise in advanced sensor technologies for Human/Machine interface applications and UCSB's portfolio of services such as research collaboration, technology licensing, and state-of-the-art R&D facilities represent a win-win partnership for advanced research and development initiatives.

Interlink Electronics, Inc. is the inventor of the Force Sensing Resistor® (FSR®) technology and is a technology pioneer in the printed electronics industry with over 30 patents issued or pending. FSR® devices are uniquely suited for a variety of applications such as force sensing, position sensing, and mouse & pointing applications, in a wide range of industries including medical, industrial automation, automotive, ruggedized equipment, robotics, and military systems.
Dr. Howard D. Goldberg, EVP of Corporate Business Development & Strategic Partnerships, commented: "Interlink's team understands that collaborating with the best engineers and scientists will accelerate innovation & technology development. This will allow us to continue to be at the leading edge and drive new business opportunities. Recognized as world leaders in materials science and micro-fabrication technologies, UCSB offers some of the newest and most comprehensively equipped R&D facilities in the world."
Mr. Steven N. Bronson, Interlink Electronics' Chief Executive Officer, said: "To successfully compete in today's High-Tech markets, the notion of having to do all R&D in-house is outdated thinking. The key to commercial success is leveraging expertise through collaborative R&D relationships in order to accelerate time-to-market and reduce R&D costs." Mr. Bronson added, "Interlink Electronics is proud to become a member of the Corporate Affiliates Program, whose membership includes such High-Tech industry leaders as Teledyne, Microsoft, Northrop Grumman, Corning, and Raytheon."
About Interlink Electronics, Inc.
Interlink Electronics, Inc. (OTC Markets: LINK) is a sensor technology company and one of the world's leading innovators of intuitive interface design. With numerous patents around the world protecting its technologies and products, Interlink Electronics serves a world-class customer base from its corporate headquarters in Camarillo, California, and offices in Japan, Hong Kong and China. For more information, see http://www.interlinkelectronics.com.
Featured Product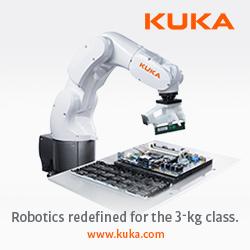 Great advances often start with small steps - in manufacturing cells measuring only 600 × 600 mm. Here, the KR 3 AGILUS is in its element. Particularly in the case of small parts and products which must be produced in a minimum of space. KUKA expertise, concentrated into the smallest of spaces, is setting new standards for the 3-kg class. The lightweight robot masters various tasks with agility, dynamism and maximum precision, leading to high flexibility in production - even when it comes to extremely narrow spaces.