Superior to plastic and metal bearings
Metallized Carbon Corporation, a global leader in the manufacture of oil-free, self-lubricating, carbon-graphite materials for severe service lubrication applications, announces the availability of custom carbon-graphite bearings, specially designed for running submerged in low viscosity liquids. Superior to both plastic and metallic bearings, Metcar carbon-graphite bearings run in applications ranging from -400 to 1000 ºF and can handle most common liquids, like water, gasoline, hot oil, solvents, strong chemicals, molten metals, liquefied gases and beverages.

Carbon-graphite is also a self-polishing and dimensionally stable material. Shafts polished to a fine surface finish will polish the carbon-graphite material to the same fine finish, so a thin hydrodynamic film is sufficient to provide lubrication. The custom bearings, available in over 150 grades of Metcar's proprietary carbon/graphite material, are ideal for a range of applications, including water pumps, fuel pumps, chemical pumps, heat transfer pumps, meters, mixers, submerged conveyors and many more.
Plastic or polymer bearing materials often fail in submerged applications because of their tendencies to swell, soften or deteriorate. Metallic bearings are often unsatisfactory because the hydrodynamic film provided by low viscosity liquids is not thick enough to overcome the strong atomic attraction between metal bearings and the metal shaft.
Metcar bearings for running submerged can be provided to customer print or customer approved dimensions and tolerances. They are also available shrink-fitted into metal housings, or metal retaining rings.
Customers can rely on Metcar's expert engineers to recommend the optimum Metcar grade for their particular application. They will also help design a bearing with the correct bearing size, proper press fit, best chemical compatibility, as well as the optimal shaft material and surface finish.
Metcar's quality Management system is certified to ISO9001-2008 and all materials are manufactured to exacting standards. Numerous quality checks are performed during the manufacturing of the material to insure the highest level of performance for each application. The latest electronic and optical methods are used to insure the dimensional integrity of each part. All measuring equipment is calibrated to NIST traceable standards.
About Metallized Carbon Corporation
Since its inception in 1945, Metallized Carbon Corporation has been manufacturing high-quality, dependable bearing solutions for severe operating environments. With over 50 years of Application Engineering experience, Metallized Carbon offers the field expertise and data necessary to provide The Solid Choice for Lubrication® in a wide variety of industries, supplying completely machined components as well as materials for customer machining. Metallized Carbon is ISO certified and produces the Metcar brand of solid, oil-free, self-lubricating materials.
For additional information about the company and its services, please visit us online at www.metcar.com or call (914) 941-3738.
Featured Product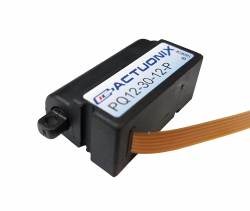 The PQ12-R series of linear servos are the smallest affordable linear servo on the market today. Small enough to fit inside a tic tac box, it's very powerful with a maximum force of over 11lbs. It operates as a direct plug-and-play replacement for standard rotary servos, using the same standard 3 wire connector. Regardless of how you drive your servos, be it with an RC receiver, an Arduino board, or a VEX micro-controller, the PQ12-R servo will function in place of a regular servo, but with the added benefit of providing linear motion. They're available in a 20mm stroke coupled with gear ratio options of 30:1, 63:1 and 100:1 cover a large variety of applications. Our PQ12 is popular used in a variety of robotics applications, medical devices, radio control and 3D printable bionic hands. Our PQ12 is proudly designed in Canada by our in-house team of engineers and thoroughly tested before leaving our facility.