Rentapen Inc.'s President, Susan Straley, educates the Engineering industry with her Weld Fixture Design blogs.
Waukesha, Wisconsin March 05, 2013

On February 25, 2013, Susan Straley posted her latest blog educating the engineering industry about an easy and practical way to determine fastener length. Susan Straley, known as the Queen of Lean Machine Design and President of Rentapen Inc., has been educating the manufacturing and engineering industry about weld fixture designs since October 2011. Her blog is called Weld Fixture Design 101. The lessons are being published as often as every two weeks.
The Weld Fixture Design Blog informs the audience on how to design a simple weld fixture, the use of their RAPid Tooling Components™, and trends in the many different outlets in the manufacturing industry. The blog is also designed to help Rentapen Inc., gain knowledge from their readers about what is important to them. This helps Straley connect to her audience and potential customers.
"I enjoy posting the blogs in machine design groups on LinkedIn because there are both experienced designers and new students of engineering who participate in discussions and add their experiences and viewpoints to the mix," said Straley. "Then I also get ideas for future lessons."
Rentapen Inc., has been active in the hiring and training of interns from many different colleges in the Greater Milwaukee, Wisconsin area. Along with the Weld Fixture Design 101 Blog, Rentapen Inc., has created a series of videos and instructions that have incorporated what Straley has written about in her blogs.
"I remember when I was just starting out as a CAD Drafter. There was so much of the practical stuff that wasn't taught in the classroom at school," said Straley. "And when I learned that 40 percent of the Engineers in the U.S. are going to retire within seven years, I knew I had to start sharing some of the knowledge that comes from years of doing the work."
The Weld Fixture Design 101 Blog demonstrates how to use Rentapen's standardized yet versatile RAPid Tooling Components™. Rentapen's precision weld fixture components are made up of RAPid Blocks™, RAPid Shims™, Clamp Risers, RAPid Plates™, and custom precision steel shims that precisely hold your product in your Weld Fixture while it is being manually or robotically assembled or welded.
Subscribers to the Weld Fixture Design 101 Blog are sent notices directly to their email when a new lesson is posted. However, the blog can also be found on the various social media sites that Straley participates. There has been 47 different Blogs published and they cover a variety of topics from creating a tapped hole to steps to design a product-holding jig or fixture. You can connect to Straley and Rentapen Inc., via Facebook, Twitter, Linkedin, and many other social media platforms.
Featured Product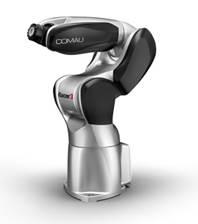 Racer3 is a powerful, high-speed, 6-axis articulated robot featuring a payload of 3kg and a reach of just 630 mm. Built from high-strength aluminum, the newest innovation in Comau robotics is lightweight and can be easily mounted on benches, walls, ceilings or on inclined supports. The third robot within the award-winning Racer family, Racer3 is Comau's response to the growing demand for fast, cost-effective robotic automation within small to medium-sized enterprises and emerging countries. Racer3 is intended for general industry use to increase productivity and reduce overall costs by automating industrial applications. It combines field-proven technology and enhanced dexterity with a keen focus on safety, design and product aesthetics. With a streamlined design and brushed metal exterior, the new powerhouse of a robot combines beauty and speed together with absolute precision and repeatability. Primary applications include assembly, material handling, machine tending, dispensing and pick & place.