Speakers from Boeing, General Mills, PepsiCo Headline Event Attendance Up 50% at Materials Technology Conference
March 6, 2013 (Bethesda, MD) Top U.S. manufactures showcased fast-growing

ultraviolet (UV) and electron beam (EB) processes at uv.eb WEST 2013 in
Redondo Beach, CA. With attendance up over 50% from the last event, UV and
EB technologies were on display, demonstrating how new materials offer
significant cost, environmental, energy and quality advantages for U.S.
industries transforming their processes. The event documented several
examples of UV and EB enabling new paradigms for process technologies in
printing, consumer packaging, composites, corrosion & weathering resistance
and field refinish/repair.
With a grant from the New York State Energy Research and Development
Authority (NYSERDA), our next event, uv.eb EAST, will be in Syracuse, New
York in partnership with the State University of New York College of
Environmental Science And Forestry (SUNY-ESF) Institute for Sustainable
Materials and Manufacturing , October 1-2, 2013.
Please visit www.radtech.org for more about UV and EB technology.
Featured Product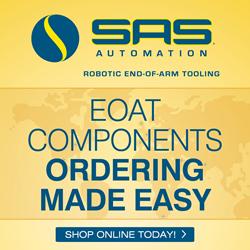 SAS Automation's complete line of modular components allows you to rapidly build your end-of-arm tools in your own plant, meeting your ever-changing automation needs on-demand. And with our newly enhanced Online Shopping Cart, it's never been easier! IT'S SHOPPING MADE SIMPLE, with features like: • Responsive Design so you can access anytime -- desktop, tablet or phone -- with ease • CAD Model Access with 3D Software Integration • Order History • Saved Quotes • Tool Builder • Product Comparisons • Enhanced Search • Social Media Sharing • Product Reviews