Third annual FIRST Robotics Competition Greater Toronto East Regional Finals
TORONTO, March 6, 2013 - Student teams representing 35 high schools from Ontario, Quebec, Michigan and Mexico are poised for a fierce yet friendly three-day robotics competition this week at University of Ontario Institute of Technology. Competitors aged 14-18 will match their Frisbee shooting, pyramid climbing, 140-lb robots in high-intensity robo-sports, in front hundreds of cheering fans at UOIT's Campus Recreational and Wellness Centre.

The FIRST Greater Toronto East Regional Final begins March 7, and kicks off a series of three Ontario regional FIRST Robotics Competitions (FRC). Organized by FIRST Robotics Canada, the Ontario FRC regional finals are sponsored by BlackBerry® and Hatch, and supported by a number of other leading engineering and technology companies.
"Since announcing Ultimate Ascent as this year's FRC kick-off six weeks ago, teams all over the world have designed, built and tested their robots in preparation for their regional finals," said Mark Breadner, FIRST Robotics Canada's Executive Director. "We've had great matches by amazing teams at our Toronto East Finals these past two years. All of us are looking forward to seeing the awesome work done by our FIRST students, teachers and mentors this year."
FRC challenges teams to raise funds, and develop their teamwork, project management and strategic thinking skills. Experts mentor students as they learn to use cutting edge hardware and software to build and program robots to perform specific tasks. In tournaments, teams cooperate with and compete against other teams, in the spirit of "coopertition," in matches that last two minutes.
"Canadian innovation begins with students," said Renata Rusiniak, Manager, Corporate Citizenship at BlackBerry. "FRC ignites young people's interests in science and technology by showing them that, as a team, they can help to tackle and solve real-world problems in fun and interesting ways."
Real-world engineering experience
FIRST (For Inspiration and Recognition of Science and Technology) Robotics Canada coordinates friendly competition programs for students aged 6-18, interested in science and technology, as part of a global network of FIRST organizations. Guided by mentor-experts, students learn how to work as a team, approach issues and discover technology and engineering careers.
"The skills these students pick up and develop through FIRST competitions are exactly what we're looking for in our employees," said John Pearson, Global Managing Director, Hatch. "They are smart, creative and collaborate well when looking for a solution to complex problems. FIRST is an excellent experience for their resume!"
Regional winners will be invited to FRC's World Championships in St. Louis, Missouri, where they will vie for more than $16 million in scholarships to the world's leading universities in science, technology, engineering and math, including University of Toronto, University of Waterloo and MIT.
Other Ontario regional finals will take place in Mississauga and Waterloo this month.
Additional information about FIRST Robotics Canada and its programs can be found at www.firstroboticscanada.org.
Featured Product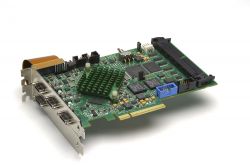 With the introduction of its Cyton and Karbon CXP frame grabbers, BitFlow has established itself as the leader in CoaXPress (CXP), a simple, yet powerful, standard for moving high speed serial data from a camera to a frame grabber. With CXP, video is captured at speeds of up to 6.25 Gigabits/Second (Gb/S). Simultaneously, control commands and triggers can be sent to the camera 20 Mb/S (with a trigger accuracy of +/- 2 nanoseconds). Up to 13 W of power can also supplied to the camera. All this happens over a single piece of industry standard 75 Ohm coaxial cable. Multiple CXP links can be aggregated to support higher data rates (e.g. four links provide 25 Gb/S of data). BitFlow CXP frame grabbers open the door to applications where cable cost, routing requirements and long distances have prevented the move to high resolution, high speed digital cameras. In many cases, existing coaxial infrastructure can be repurposed for CXP with very low installation costs.