The Toradex Design Challenge is a competition for students and other individuals at education and research institutions.
Horw, Switzerland March 20, 2013

The Toradex Design Challenge is a competition for students and other individuals at education and research institutions. The task is to create a product from an original idea, utilising an NVIDIA® Tegra™ based Computer on Module Kit (worth $250 and provided free to qualifying projects).
Examples on the Toradex website might fuel your imagination and twice a year the projects will be judged, with prizes of up to $20,000 US awarded to the winning teams. A total of £100,000 US will be on offer annually.
In addition to the kit, Toradex will offer participants support in the form of software libraries, an online knowledge base, and technical support from their engineering team. Full details of how to enter and other requirements can be found at http://www.challenge.toradex.com.
Toradex are interested in partnerships with universities and research institutes too, already boasting a number of successful collaborations.
About Toradex
Founded in Switzerland, today the Toradex network stretches across the world. Its direct sales model and local service approach puts Toradex in regular contact with more than 3,000 customers around the globe. Toradex supplies embedded computer modules for demanding applications and offers premium support service to help its customers rapidly bring product to market. Toradex's strategic vision and long term orientation makes it the company of choice for ambitious and creative people.
Toradex products are deployed within a diverse range of markets and industries. Typical industries include: automotive, medical devices, laboratory equipment, point of sales, gaming machines, navigation systems, musical instruments, machine control, virtual reality simulation, digital signage, traffic control systems, building automation, security systems, robotics, process control and auto pilots.
Meet our engineers at:
DESIGN West/ESC Silicon Valley, San Jose, USA, April 22-25, 2013
ESC Bangalore, India, July 17-19, 2013
IPC&EMBEDDED EXPO 2013, ShenZhen, China, August 1-3, 2013
DESIGN East/ESC Boston, USA, September 30 - October 3, 2013
Featured Product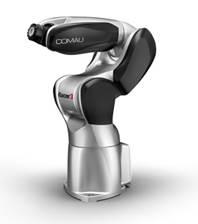 Racer3 is a powerful, high-speed, 6-axis articulated robot featuring a payload of 3kg and a reach of just 630 mm. Built from high-strength aluminum, the newest innovation in Comau robotics is lightweight and can be easily mounted on benches, walls, ceilings or on inclined supports. The third robot within the award-winning Racer family, Racer3 is Comau's response to the growing demand for fast, cost-effective robotic automation within small to medium-sized enterprises and emerging countries. Racer3 is intended for general industry use to increase productivity and reduce overall costs by automating industrial applications. It combines field-proven technology and enhanced dexterity with a keen focus on safety, design and product aesthetics. With a streamlined design and brushed metal exterior, the new powerhouse of a robot combines beauty and speed together with absolute precision and repeatability. Primary applications include assembly, material handling, machine tending, dispensing and pick & place.