Company Prepares for Commercialization of the Ground-Breaking Flex™ Robotic System in Otolaryngology
RAYNHAM, Mass.--Medrobotics Corporation, an emerging medical robotics company developing the innovative Flex™ Robotic System, announced the recent closing of up to $10 Million in new debt financing from Hercules Technology III, L.P., an affiliate of Hercules Technology Growth Capital, Inc. The financing precedes Medrobotics' anticipated commercial launches in Europe and the United States.

About Medrobotics
Medrobotics Corporation (www.Medrobotics.com) is a privately-held company headquartered in Raynham, Massachusetts that is developing and commercializing the Flex™ Robotic System, a robotic-assist platform that enables surgeons to gain single-site access and visualization to difficult-to-access anatomical locations. The robot provides a precise and stable platform for enhanced visualization and enables two-handed dexterity with compatible third-party instruments having tactile feedback.
About Hercules Technology Growth Capital
Hercules Technology Growth Capital, Inc. (NYSE: HTGC) ("Hercules") (www.HTGC.com) is the leading specialty finance company focused on providing senior secured loans to venture capital-backed companies in technology-related markets, including technology, biotechnology, life science and cleantech industries at all stages of development. Since inception (December 2003), Hercules has committed more than $3.4 billion to over 220 companies and is the lender of choice for entrepreneurs and venture capital firms seeking growth capital financing.
Featured Product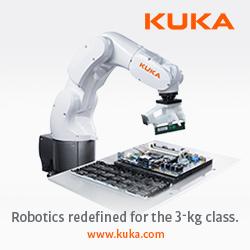 Great advances often start with small steps - in manufacturing cells measuring only 600 × 600 mm. Here, the KR 3 AGILUS is in its element. Particularly in the case of small parts and products which must be produced in a minimum of space. KUKA expertise, concentrated into the smallest of spaces, is setting new standards for the 3-kg class. The lightweight robot masters various tasks with agility, dynamism and maximum precision, leading to high flexibility in production - even when it comes to extremely narrow spaces.