Danish robot manufacturer Universal Robots has introduced force control as an integrated part of its software. The technology, which is usually an optional extra feature with other manufacturers, has opened doors to a new world of robot applications.
Stony Brook, NY, April 4, 2013: Universal Robots' force control feature lets robots operate with an additional force component enabling more complex automation processes to be performed. Examples include food handling, flexible packaging, fragile products as well as buffing or polishing applications.

"Advanced force control is a unique feature for this type of collaborative robot. We can now automate manual tasks previously not possible due to the exact amount of force exertion needed in the application," said Ed Mullen, National Sales Manager in North America.
Universal Robots' two robotic arms, the UR5 and UR10, are aimed at companies that thought robots were too expensive, cumbersome and hard to program and integrate in existing production. The lightweight robots can work alongside personnel and generally require no safety shielding in 80 per cent of installations. The UR robots are easily moved around the production area and present a plug-and-play solution; a simple user interface lets employees with no previous programing experience quickly set up and operate them.
"A key selling point of our robots is that they are continuously upgraded", said Kristian Hulgard, UK and Nordics Sales Manager, "Once purchased, our users can expect a steady stream of software upgrades giving them access to all the new features on the latest robots to leave the factory. This makes their investment future-proof."
Instead of expensive sensor technology, the robotic arms use a unique patented technology to measure electrical current in the joints to determine force and movement. The innovation enables the robot to undercut the price of other automated solutions.
"Small and medium-sized companies demand a fast return on investment. Besides the robot's low initial cost, it operates very cost-efficiently and is profitable in only six to eight months," said Kristian Hulgard.
A torso application using two robotic arms has also been developed by the company as a trade show demo. It mimics the way a human can grip objects by using two arms. The two robotic arms are programmed to work in unison and hold objects between them without crushing using variable force. There has already been interest from UK Universities in this unusual application for research purposes.
The UR5 robotic arm was announced "The world's most innovative robot" by The International Federation of Robotics and IEEE Robotics and Automation Society in 2012.
About the robots:
Universal Robots is a result of many years of intensive research in robotics. The six-axis robot arms can easily be implemented in many industries; from a small CNC lathe production to large automobile assembly lines. The UR5 and UR10 are named after their respective payload in kilos (11 lbs for UR5 and 22 lbs for UR10). With a reach capacity of up to 51", speed of 39"/s and repeatability of +/- .004", the six-axis robots enable quick, dexterous precision handling of even the smallest items.
Esben Østergaard, founder and CTO at Universal Robots said "We decided to make programming intuitive by developing a graphical user interface combined with a "teaching function" allowing the user to simply grab the robot arm and show it how a movement should be performed. The robot can be integrated into any production process very quickly. Our experience shows this is generally done in a few hours."
If the robots come into contact with an employee, the robot will automatically stop operating. The force delivered in the collision does not cause bodily harm, adhering to the current safety requirements on force and torque limitations. Tools used by the robot and other unique factors of each application should be incorporated in a full risk assessment for every installation before deciding if safety guarding is necessary or not.
About the company:
Universal Robots is a first mover within a new segment for collaborative industrial robots with focus on user friendliness and flexibility. Since the first UR robot entered the market in 2009, the company has seen substantial growth. This year alone, Universal Robots expects to sell 800-1000 robots globally. The robots are currently distributed in more than 40 countries worldwide.
Featured Product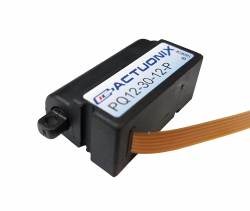 The PQ12-R series of linear servos are the smallest affordable linear servo on the market today. Small enough to fit inside a tic tac box, it's very powerful with a maximum force of over 11lbs. It operates as a direct plug-and-play replacement for standard rotary servos, using the same standard 3 wire connector. Regardless of how you drive your servos, be it with an RC receiver, an Arduino board, or a VEX micro-controller, the PQ12-R servo will function in place of a regular servo, but with the added benefit of providing linear motion. They're available in a 20mm stroke coupled with gear ratio options of 30:1, 63:1 and 100:1 cover a large variety of applications. Our PQ12 is popular used in a variety of robotics applications, medical devices, radio control and 3D printable bionic hands. Our PQ12 is proudly designed in Canada by our in-house team of engineers and thoroughly tested before leaving our facility.