The EVO system is the most integrated solution for high-end aerial cinematography.
Austin, TX April 08, 2013

DJI, one of the world's leading developers and manufacturers in UAV systems, today launched the EVOTM System for professional cinematographers. The upgraded system is comprised of the S800 EVO Airframe, the Zenmuse EVO gimbal and the A2M flight controller. Developed for film and TV production, the EVO System marks the most advanced platform for highly-effective unmanned aerial cinematography.
The EVO System is designed for the most demanding digital video professionals, providing a safer and more economic alternative to full-scale helicopter use. The EVO System enables shot never before possible.
Features of S800 EVO Airframe
*Retractable landing gear allow for full 360 degree camera views
*Powerful (470 watt) brushless motors allowing for a increased payloads (i.e. Lumix GH3 camera)
*Foldable, more efficient propellers for increased portability
*Expanded airframe trays for mounting additional electronics
*Superior vibration dampening integrated into the airframe
Features of Zenmuse EVO Gimbal
*Three times more stable than current Zenmuse gimbals
*Optimized for Lumix GH3 camera
*Integrated slip-rings allow 360 degree range of motion in all axis
*New dampening system prevents vibration from reaching camera sensor
Features of A2M Flight Control
*Bluetooth 4.0 control via iOS application
*Build-in receiver supports Futaba FASST enabled transmitters
*Port for Spektrum satellite receivers
*Additional Function Ports
*Our most robust and reliable flight controller yet
"Our professional grade products are used on film and TV productions everyday - all over the world," stated Colin Guinn, CEO of DJI North America. "However, the EVO System brings an all new level of innovation to unmanned aerial vehicles in film production. Given their inherent safety and versatility, we anticipate an impact similar in scale to the DSLR revolution."
The EVO System will be available for purchase by the end of Q2 2013, expect pricing to be equally revolutionary.
About DJI
DJI Innovations ("DJI") is a global leader in developing and manufacturing small unmanned aerial systems (sUAS) for commercial and recreational use. DJI was founded and is run by people with a passion for remote-controlled helicopters and experts in flight control technology. The company is dedicated to making aerial photography and videography more reliable and easier to use for professional photographers, cinematographers and hobbyists around the world.
DJI's global operations currently span North America, Europe and Asia, and its revolutionary products and solutions have been chosen by customers in over 50 countries; for applications in film, advertising, law enforcement, agriculture, and many other industries.
For more information, visit DJI online: http://www.dji-innovations.com
Follow us on Facebook: http://www.facebook.com/iflydji
Follow us on YouTube: http://www.youtube.com/user/iflydji
Featured Product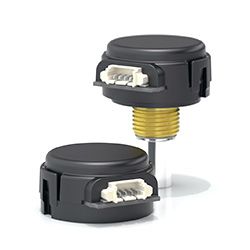 US Digital is pleased to announce the launch of the E4T, their latest series of miniature high performance optical encoders. The E4T series delivers a marked performance increase over similar encoder models and designed to be an enhanced replacement for the E4P encoder series. The E4T utilizes state of the art transmissive optical sensing technology, and incorporates US Digital's own proprietary OptoASIC. Assembly of the E4T is simple and efficient and retains the previous E4P's form factor. Key features of the new E4T include: • Mechanically and Electrically Interchangeable with E4P • Improved Quadrature Signal Strength • 100 kHz Frequency Response • Transmissive Optical Design • Collet Style Push on Optical Disk Design (Patent Pending) • Simple & Efficient Assembly Process As with all of our products the E4T is designed and manufactured in their Vancouver, Washington USA facility and is available for purchase as of December 2014.