Treasure hunters Sub Sea Research team up with Howe and Howe Technologies to recover Port Nicholson cargo
Portland, Maine April 11, 2013

Last year, Sub Sea Research made international news with the announcement of their discovery of the $4 billion gold and platinum cargo aboard the SS Port Nicholson, a freighter that was sunk by a German U-Boat off the coast of Massachusetts in 1942. A year later, Sub Sea Research has teamed up with Maine-based, award winning technology company Howe and Howe, which designs and builds custom vehicles, robotic platforms and fabricated goods. The resulting effort is the Lamprey Rover, a robotic tracked vehicle that is specifically tailored to this wreck's needs, and is the suitable tool to bring up the cargo this salvage season.
Sub Sea Research has been in business for 20 years and has a long history of success in both research and recovery of underwater treasure. "Our research team is probably the best in the world," says Greg Brooks, founder of the company. "We have de-classified documentation stating what's on board and have seen ingot shaped objects just outside the wreck in the debris field." The Port Nicholson wreck has brought up a few challenges for the company since they were named official custodians by the U.S. District Court and began the salvage effort the following season in 2011. "The cargo we are seeking is deep inside the wreck and with the conditions in the North Atlantic as they are, it's taking longer than expected", Brooks says. "It's there just waiting for us to recover it. It's not an easy task, but we won't stop until we get it!" Brooks adds, "On our last trip out to the site, our small ROV penetrated the wreck and we saw what we believe was a strong box with something really good inside. Now we need the Lamprey to pick it up and bring it home."
Howe and Howe Technologies believes their prototype for the Lamprey Rover is exactly what is needed to overcome the difficulties this wreck has presented. Unlike other work-class ROVs, the Lamprey boasts a set of eight sixteen-inch diameter thrusts, extremely powerful electromagnets for use in adhering the vehicle to the ship's hull, and includes multiple methods for actually getting inside the cargo hold. "Rather than buying an existing ROV and then going through the process of retrofitting it with the correct tools, we have the freedom to place components where we need. We can spec the correct components to meet our system requirements and we avoid the aggravation of trying to integrate with a system that wasn't meant to perform the required tasks," says Josh Spaulding, an engineer at Howe and Howe Technologies. Howe and Howe has been in business for seven years and are globally recognized for their vehicles, which have been used in the U.S. Army and featured on the Discovery Channel show Black Ops Brothers: Howe and Howe Tech, among others.
The Lamprey offers a simple solution to the obstacles of the wreck. Once constructed, the Lamprey will be able to withstand rough seas and currents, and will easily be able to make the trek down to the Port Nicholson, which is resting on the ocean floor in what is considered the Mesopelagic zone, over 600 feet below sea level. The Lamprey's unique design will allow it to safely align itself with the ship's cargo hold, and its diamond-blade saws will allow it immediate entry. The vehicle is equipped with a pair of Conan manipulators, which can pick up to 500 lbs. of weight. It also features a removable track system. Other work-class ROVs on the market typically have one manipulator and are limited in wreck penetration. "This wreck has some of the more unique attributes we've ever seen," Brooks explains. "A custom vehicle is the best and only option for recovering what's inside."
Once the Lamprey is made into a reality, Howe and Howe will extensively test its capacities. "Testing will be exciting," says Spaulding. "Even before the Lamprey is finished there will be a great deal of testing. As major components such as the LARS and control room are built we'll begin testing those and running training scenarios. Once the vehicle is completed we intend to do some shallow open water testing before transferring the vehicle to the Sea Hunter where we can go out and run tests at depth." They will also be onboard the M/V Sea Hunter, Sub Sea Research's 220' vessel, for any repairs or issues that arise during salvage.
"Funding options are being discussed for the Lamprey. Once completed, the contents of the wreck will take a very short time to recover, and it's off to the next billion wreck," says Brooks.
(The United States District Court, District of Maine has exclusive admiralty jurisdiction over the shipwreck. Sea Hunters LP is the substitute custodian until the courts ultimate determination of a salvage award and/or ownership of recoveries are determined.)
Featured Product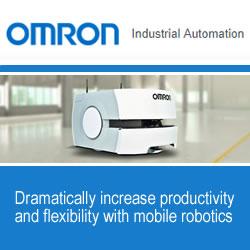 Our fully autonomous intelligent vehicles will help you to transform the way you move materials and route your workflows. Increase throughput, eliminate material flow errors, improve traceability, maximize flexibility and allow your employees to focus on higher level tasks. Unlike traditional AGV's, our mobile robotics navigate using the natural features of your facility and do not require expensive facility modifications or guidance. Our AIV's can adapt to changes in their environment and work freely and safely with your staff. Our mobile robots are intelligent enough to quickly learn their environment and then automatically find the optimal path to where they need to go. They also automatically make adjust for dynamic environments and can work together in fleets of up to 100 robots.