A robot with six electromechanically driven axes - in 1973 that was a revolution in industrial production!

40 years ago, KUKA introduced the FAMULUS, the first industrial robot of its own manufacture, thereby ushering in an entirely new era of robotics. KUKA had previously gained relevant experience through the use of robots from other manufacturers, which were hydraulically operated, however. When the demands for powerful and reliable robots above all from the automotive industry grew ever more pressing, the company decided to develop its own robot.
The idea has paid dividends: today, 40 years after the FAMULUS, KUKA is one of the world's leading suppliers of industrial robots.
Featured Product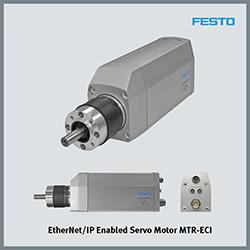 Mechatronic Motion Solutions from Festo is a unique system of components, modules, and software. It integrates all types of pneumatic, servopneumatic and (electro)mechanical automation motion and combines them according to your task. Irrespective of the control system environment you use, Mechatronic Motion Solutions always provides the appropriate interfaces. The fingers can be actively moved and their strength amplified; the operator's hand movements are registered and transmitted to the robotic hand in real time. The objectives are to enhance the strength and endurance of the human hand, to extend humans' scope of action and to secure them an independent lifestyle even at an advanced age.