A robot with six electromechanically driven axes - in 1973 that was a revolution in industrial production!

40 years ago, KUKA introduced the FAMULUS, the first industrial robot of its own manufacture, thereby ushering in an entirely new era of robotics. KUKA had previously gained relevant experience through the use of robots from other manufacturers, which were hydraulically operated, however. When the demands for powerful and reliable robots above all from the automotive industry grew ever more pressing, the company decided to develop its own robot.
The idea has paid dividends: today, 40 years after the FAMULUS, KUKA is one of the world's leading suppliers of industrial robots.
Featured Product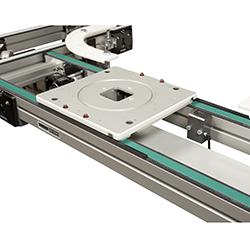 Dorner's 2200 Series Precision Move Pallet Systems feature the latest advancements in pallet traffic management. A unique pin tracking system guides pallets through merges and curves while maintaining product orientation. The fast belt change capability increases efficiency and reduces downtime in assembly automation processes. They are available in lengths up to 25 ft., can handle loads up to 500 lbs. and travel at speeds up to 114 ft/min.