QC-001 Provides Flexibility To Extremely Light Payload Robots
ATI Industrial Automation has developed a new Robotic Tool Changer for extremely light payloads. The QC-001 model Tool Changer features an extremely compact and lightweight design for high-speed \"spider\" or delta robots. This new Tool Changer enhances the flexibility of these robots by enabling them to switch end-effectors automatically. Multiple assembly, dispensing, sorting, and material handling operations can be performed by one robot, greatly increasing productivity, while reducing downtime for change-overs. The QC-001 Tool Changer also features integrated pneumatic ports and electrical connections.

Product Features and Options:
Payload: 2.2 lb (1 kg).
Weight (when coupled): 0.12 lb (0.055 kg).
Stack Height (when coupled): 0.67 in (16.9 mm).
Electrical Pass-throughs: 8-pins @ 3 Amp/50VAC.
Pneumatic Pass-through Ports (qty): (4) M5.
ATI offers a wide selection of Tool Changer models to cover a variety of applications. Key features include: Excellent repeatability, high rigidity, and a lightweight and compact design. With over 20 years of robotic end-effector innovation, ATI's engineering department, the largest of its kind for a robotic tooling company, is focused on developing cost-effective, state-of-the-art products and solutions.
Featured Product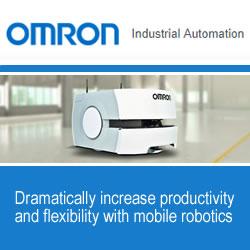 The Omron Adept Lynx Cart Transporter is an Autonomous Intelligent Vehicle (AIV) designed to attach to movable carts and transport them from a pickup location to a drop off location. Applications include line-side inventory replenishment, moving flow racks, transporting Work in Progress (WIP) between process steps, and moving finished goods to the warehouse. The Lynx Cart transporter leverages Natural Feature Navigation to autonomously find a path through the facility without the need for any facility modifications necessary.