FORT LAUDERDALE, Fla., April 16, 2013-- MAKO Surgical Corp. (Nasdaq:MAKO) and Stanmore Implants Worldwide Ltd. today announced that MAKO has agreed to settle all patent infringement actions and acquire certain assets of Stanmore related to its Sculptor Robotic Guidance Arm (RGA) business.

On March 19, 2013, MAKO filed complaints against Stanmore with the U.S. International Trade Commission and the U.S. District Courts of the Northern District of California and the District of Massachusetts collectively alleging infringement of MAKO intellectual property by the Sculptor RGA.
Under the confidential settlement and asset purchase agreements between the parties, in exchange for a cash payment to Stanmore, MAKO will withdraw all legal actions and receive Stanmore's robotic business assets and intellectual property, as well as Stanmore's agreement to withdraw from robotics.
"Stanmore is pleased to have reached closure in this matter," said Michael R. Mainelli, Jr., President and Chief Executive Officer of Stanmore.
"This agreement both affirms and improves MAKO's intellectual property position in robotically assisted orthopedic surgery," said Maurice R. Ferr©, M.D., President and Chief Executive Officer of MAKO. "Moreover, we are enthused about the possibility of partnering with Stanmore on potential future projects."
About MAKO Surgical Corp.
MAKO Surgical Corp. is a medical device company that markets its RIO® Robotic-Arm Interactive Orthopedic system, with specific applications for partial knee resurfacing and total hip replacement, and proprietary RESTORIS® Family of Implants for orthopedic procedures called MAKOplasty®. The RIO is a surgeon-interactive tactile surgical platform that incorporates a robotic arm and patient-specific visualization technology, which enables accurate, consistently reproducible bone resection for accurate insertion and alignment of RESTORIS knee and hip implants. The MAKOplasty solution incorporates technologies enabled by an intellectual property portfolio including more than 300 U.S. and foreign, owned and licensed, patents and patent applications. Additional information can be found at www.makosurgical.com.
About Stanmore Implants
Stanmore Implants is a commercial-stage orthopaedic implant company focused on providing differentiated technologies designed to provide solutions for several important, yet underserved market segments. Stanmore's implant design service alongside its portfolio of orthopaedic implants draws on over 60 years' experience in providing some of the world's most successful implants in Extreme Orthopedics. Stanmore is backed by leading investors including Abingworth, Imperial Innovations and Ivy Capital and intends to seek like-minded co-investors in 2013 to further support the commercialisation and growth opportunities offered by its unique technologies and market positioning
Featured Product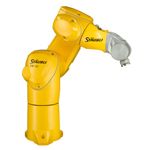 Stäubli offers a complete range of robotic tool changing systems for payloads of 20 kg to 1,530 kg and torsion moments from 30 to 12,500 Nm, designed for use in virtually every industry. The tool changers adapt to customer-specific applications with different modules for media, data, power, etc. The new MPS 130 robotic tool changer is powerful, very robust, and designed for a huge range of applications. It features multiple couplings for air/vacuum connections, and can be equipped with connectors for data and electrical transmission. Very compact dimensions, with a coupled height of only 67 mm, make the MPS 130 the first choice for applications requiring a high number of mating cycles.