Supporting Six Teams, Patti Engineering Helps Youth Display Expertise in Science and Technology at FRC
Auburn Hills, MI April 17, 2013

Patti Engineering, Inc., a leader in control systems integration, today announced its continuing support for the FIRST Robotics Competition (FRC). The annual competition brings together thousands of bright young students to compete in organized teams. Practicing engineers donate their time and expertise to help these teams as they are challenged to think, create and compete as they design and build the robots.
Teams that join First Robotics experience the excitement of sport coupled with the rigors of science and technology. With strict rules, time constraints and limited resources, teams are tasked with raising funds, designing a brand and honing effective teamwork skills. Teams build and program their robots to perform pre-determined tasks with the support of mentors who volunteer their time and talent. In 2013, Patti Engineering is supporting six teams from Team 302 Lake Orion Dragons, Team 2137 Oxford TORC, Team 33 Notre Dame Prep Killer Bees, Teams 70/494 Goodrich Martians and Team 4743 - Royal Oak Steam Engine.
Founded in 1989, FIRST promotes youth interest in science and technology. Its mission is to inspire and grow younger generations into science and technology leaders through engaging them in exciting mentor-based programs to build science, engineering and technology skills. "More than $16 million dollars in scholarship money is available, exemplifying FIRST and our industry's true dedication to helping shape young professionals," commented Ken Kutchek, vice president of operations at Patti Engineering.
"From all of us at Patti Engineering, we would like to congratulate the six teams we sponsored for their hard work and impressive performances. We are proud to say that four of our teams, Team 2137 Oxford TORC, Team 33 Notre Dame Prep Killer Bees, Teams 70/494 Goodrich earned spots in the state finals which took place last week," said Sam Hoff, president of Patti Engineering.
About Patti Engineering, Inc.
Patti Engineering, Inc. is a CSIA Certified control systems integration company offering high-caliber engineering and software development services. Patti Engineering's technical expertise in electrical control and information systems provides turnkey control systems integration for design/build, upgrade/retrofit and asset/energy management projects. Industrial automation, production intelligence and shop floor IT solutions services include: project management, electrical engineering, hardware design, hardware procurement, software development, installation, calibration, start-up testing, verification, documentation, training and warranty support. Customer satisfaction and project success earned the company Control Engineering Magazine's 2013 System Integrator of the Year. For more information, visit http://www.pattieng.com.
Featured Product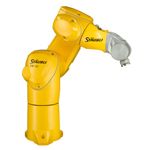 Stäubli offers a complete range of robotic tool changing systems for payloads of 20 kg to 1,530 kg and torsion moments from 30 to 12,500 Nm, designed for use in virtually every industry. The tool changers adapt to customer-specific applications with different modules for media, data, power, etc. The new MPS 130 robotic tool changer is powerful, very robust, and designed for a huge range of applications. It features multiple couplings for air/vacuum connections, and can be equipped with connectors for data and electrical transmission. Very compact dimensions, with a coupled height of only 67 mm, make the MPS 130 the first choice for applications requiring a high number of mating cycles.