Applied Robotics' Sigma NextGen™ is the latest in the Established line of Sigma Tool Changers, Designed to keep Pace with Industry Demands.
Applied Robotics, Inc., a leading global manufacturer of robotic end-of-arm tooling and connectivity solutions, today announced the introduction of its new tool changer in the Sigma Tool Changer line, the Sigma NextGenTM, designed to keep pace with the development of higher dynamic robotic and the need to address an increased payload range, up to 1500kg with the Sigma NextGenTM 200 (6). The Sigma NextGenTM has driver/cam geometry to provide increased moment and acceleration capabilities to handle today's high dynamic robots. This design ensures robust coupling under the most extreme load conditions, and the tool changer maintains safety with a coupled mechanism during loss of compressed air.

The Sigma NextGenTM, as well as the entire Sigma line, supports a wide variety of servo tools and bus communications including the new SmartCommTM Communications Module for Sigma TCs which features Diagnostics via a webpage and the ability to schedule maintenance and run various reports. The SmartCommTM is also released today (March 8,2013 -- please see the additional press release also on the ARI website.)
A common profile in the entire Sigma Line of Tool Changers provides modularity and allows for interchangeability of utility modules, further increasing efficiency and flexibility. Later on this year, expect to see more additions to the Sigma NextGenTM line, able to accomodate a variety of industries and applications.
"Our customers' changing requirements were our highest priority in the design process for the Sigma NextGenTM," said Cliff Annis, Vice president of Applied Robotics, Inc., "The Sigma NextGenTM is poised to mee and exceed any application challenges."
Featured Product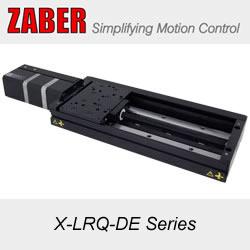 Zaber's new and improved stage (X-BLQ-E) is a closed-loop, belt-driven motorized linear stage with built-in motor encoder and controller. With travel lengths up to 3 m, 10 µm repeatability, and a maximum speed of 2.0 m/s, X-BLQ-E stages are perfect for rapid positioning over large distances. A built-in motor encoder allows closed-loop operation and slip/stall recovery, and an optional indexed knob provides manual control for operation without a computer. Like all Zaber products, the X-BLQ-E Series is designed for easy set-up and operation.