Hanover Fair 2013 has ended. The tagline at KUKA AG's exhibit was "Integrated Automation". The Group's spectacular booth concept captivated thousands of visitors. What remains are lasting impressions, many new ideas, interesting contacts and an award: The company's conceptual exhibit "moiros" captured the coveted ROBOTICS AWARD presented by Hanover Fair organizers.
Hanover Fair is the world's most important industrial trade show. KUKA presents its entire portfolio of products and services at the fair every two years. It took nineteen days to completely put together the booth. The material was shipped to Hanover on two heavy-duty and thirteen standard trucks. Among other things, the precious cargo included the twenty-six robots that were destined to be exhibited at the show. Forty tonnes of steel were used to assemble the massive display that featured seventeen of the robots dancing with each other, including LBR iiwa, KUKA's industrial duty lightweight robot that opens the door to entirely new automation possibilities. The new robot's world premiere was at Hanover fair.

ROBOTICS AWARD 2013
One of the show highlights was the presentation of the ROBOTICS AWARD 2013. It was the third time the prize for applied robot solutions has been presented by the organizers of Hanover Fair, in cooperation with the German trade journal Industrieanzeiger and Germany's Robotation Academy for robotics and automation. The prize is awarded for robot-based solutions that are especially useful in practical applications. This year the judges chose KUKA's conceptual exhibit "moiros". The display featured a robotic application capable of flexibly handling extremely large components, such as the ten-meter wind turbine rotor blade used at HMI. The conceptual vehicle consists of a KUKA omniMove platform, a KR QUANTEC console robot including KR C4 controller and autonomous navigation software.
KUKA AKTIENGESELLSCHAFT
KUKA Aktiengesellschaft is an international global enterprise with sales of about EUR 1.7 billion in 2011 and about 7,200 employees worldwide at the present time. The company focuses on robot-supported automation for industrial manufacturing processes and is one of the world's leading suppliers of robotics, plant engineering and plant assembly services. KUKA's business model is based on two business units: the Systems division, which designs and builds automated systems and the Robotics division, which supplies industrial robots, the core component of automated systems. The holding company and its two divisions are headquartered in Augsburg. More than forty-five companies operating internationally target the automotive and general industry markets.
Source: http://www.kuka-robotics.com/
Featured Product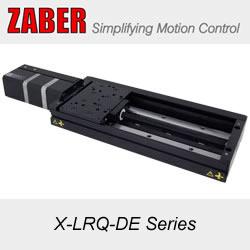 Zaber's new and improved stage (X-BLQ-E) is a closed-loop, belt-driven motorized linear stage with built-in motor encoder and controller. With travel lengths up to 3 m, 10 µm repeatability, and a maximum speed of 2.0 m/s, X-BLQ-E stages are perfect for rapid positioning over large distances. A built-in motor encoder allows closed-loop operation and slip/stall recovery, and an optional indexed knob provides manual control for operation without a computer. Like all Zaber products, the X-BLQ-E Series is designed for easy set-up and operation.