Significantly enhancing the ability of users to handle hazardous threats safely
LONDON - April 19, 2013 - Northrop Grumman Corporation (NYSE:NOC) has launched CUTLASS, its latest generation unmanned ground vehicle (UGV), expanding its range of industry-leading capabilities in unmanned systems for the remote handling and surveillance of hazardous threats.

CUTLASS has been designed, developed and manufactured by Northrop Grumman in the U.K., and includes significant advances in technology and performance and a range of features that provides state-of-the-art capabilities for national security and resilience applications.
"Our CUTLASS vehicle is setting new standards in the UGV market and significantly enhancing the ability of users to handle hazardous threats safely. It is more dexterous, cost effective and, as a package, four times faster than any other UGV," said Greg Roberts, managing director, defence and security, Northrop Grumman Information Systems Europe. "The vehicle is already in service across the U.K. and has proven itself to be robust and capable in the most demanding environments. We look forward to exploiting the potential opportunities for exporting this capability into international markets."
CUTLASS will be on display in Northrop Grumman's exhibit at the Counter Terror Expo, where it will also show its range of capabilities in daily live scenario-based demonstrations. The international exhibition and conference Counter Terror Expo takes place at the National Hall, Olympia, London, April 24-25.
CUTLASS offers the latest technology in a modular design, enabling the user to deal safely with the full range of hazardous threats from a distance, including the detection and disposal of explosive ordnance. Its highly versatile design means that it is capable of accommodating a wide range of payloads, sensors and tools. It carries all of the tools and sensors it needs to perform the full range of operations required for explosive ordnance disposal and other applications, avoiding the need to deploy two standard UGVs. CUTLASS saves up to 50 percent on the through-life costs when compared to owning and operating two standard UGVs.
The manipulator arm is equipped with a three-fingered, state-of-the-art gripper and has nine degrees of freedom for greater movement and agility inside limited spaces. With a specialised sensing system it provides a high level of control and dexterity to minimize damage to property and preserve forensic evidence.
Using CUTLASS, a hazardous situation can be restored to normal up to four times more quickly than with any other UGV. The combination of the speed of the wheeled platform, which can reach speeds of up to 12 kph, and the ability of CUTLASS to carry multiple tools and sensors negates the need to return to the incident control point, thus saving considerable time. The robot is able to creep along at deliberately slow speeds for delicate operations and may accelerate to high speeds to enable rapid travel. The six-wheeled design offers mobility on all types of hard and soft terrain and in all weather conditions.
Northrop Grumman's unmanned ground vehicle business has been established in Coventry, U.K., for more than 20 years. Today, the company designs, develops and manufactures in the U.K. some of the most capable and reliable unmanned ground vehicles available, from the Wheelbarrow bomb disposal robot to the latest vehicle, CUTLASS.
Northrop Grumman has more than 2,000 unmanned ground vehicle systems in operation around the world.
Northrop Grumman is a leading global security company providing innovative systems, products and solutions in unmanned systems, cybersecurity, C4ISR, and logistics and modernization to government and commercial customers worldwide. Please visit www.northropgrumman.com for more information.
Featured Product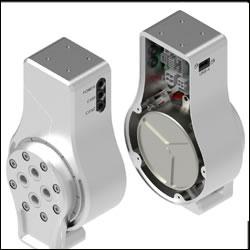 maxon launches the next generation of positioning controllers - the EPOS4. A high performance module with detachable pin headers and two different power ratings. With a connector board, the modules can be combined into a ready-to-install compact solution. Suitable for efficient and dynamic control of brushed and brushless DC motors with Hall sensors and encoders up to 750 W continuous power and 1500 W peak power. The modular concept also provides for a wide variety of expansion options with Ethernet-based interfaces, such as EtherCAT or absolute rotary encoders.