Can be controlled manually or automatically from a USB port with InnoTechnix-designed software (for Windows)
InnoTechnix, a Canadian company specializing in the manufacture of small robots accessible to the general public, is proud to announce the launch of MandleBot. MandleBot is a robotic arm made of aluminum with a gripper, the first in a wide range of specialized robots.

Developed and assembled in Canada, our robot can be controlled manually or automatically from a USB port with InnoTechnix-designed software (for Windows). One of the main features of MandleBot is that it can be disassembled using a simple Allen key, and reassembled by an 8-year-old child in a few hours.
InnoTechnix is targeting three main markets for MandleBot. It can be used in the education field, with robotics workshops being developed according to the age of the students. It will have a niche in specialty shops such as science centers and premium toy stores, as well as in corporations, where robots can be used in different learning environments and for entertainment.
Inspired by NASA and sci-fi movies, InnoTechnix wants to democratize access to robots, entertain fans of construction and technological games, stimulate the imaginations of young and old, and why not, help create interest in scientific and technology-oriented vocations among young people.
MandleBot is available in two options:
*MandleBot Premium: the robot is delivered mounted with a sturdy carrying case.
Special Introductory Price: $ 1,549.00
*MandleBot Geek: the robot is delivered in parts and must be assembled according to the instructions.
Special Introductory Price: $ 1,149.00
For geeks, we also provide an API protocol (available for Windows, OS X, Linux, Android, iOS and Windows CE) with full documentation and code samples.
InnoTechnix had the privilege of presenting the project on "Dans l'oeil du Dragon" (the French-Canadian version of Dragon's Den). More than one million viewers were able to see our robots in action. Here is the link: http://dragon.radio-canada.ca/emission/les-candidats/34-InnoTechnix
A video presentation of MandleBot can be viewed here: http://youtu.be/-8kIb4DPnIc
For more information, please visit our website at: http://www.itnx.com/ or contact us at (514) 312-5883.
Featured Product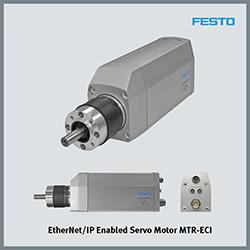 Mechatronic Motion Solutions from Festo is a unique system of components, modules, and software. It integrates all types of pneumatic, servopneumatic and (electro)mechanical automation motion and combines them according to your task. Irrespective of the control system environment you use, Mechatronic Motion Solutions always provides the appropriate interfaces. The fingers can be actively moved and their strength amplified; the operator's hand movements are registered and transmitted to the robotic hand in real time. The objectives are to enhance the strength and endurance of the human hand, to extend humans' scope of action and to secure them an independent lifestyle even at an advanced age.