Motion Controls Robotics, Inc. (MCRI), Fremont OH - MCRI welcomed a version of the largest robot in the world into its Fremont, OH plant today, the FANUC M2000. MCRI is one of the first FANUC integrators to take receipt of one of these very large robot. Special rigging accommodations had to be made to receive it and set it up in our plant. Stretched out with its massive end of arm tool and payload, the robot measures over 35' in length. It can lift up to 900kg or nearly 2000 pounds - a variation of this robot can lift up to 3500 pounds. The end customer, located in Canada, is eagerly awaiting it to perform its task in a complex roll slitting and packaging operation. The customer selected this robot solution over hard automation because of its proven reliability, flexibility, and relative simplicity.

The FANUC R2000, a much smaller version of the M2000, will keep the M2000 company in the customer's packaging cell. The R2000 will travel on a rail and will place each of the slit rolls from the M2000 onto pallets for shipment to the end customer.
Featured Product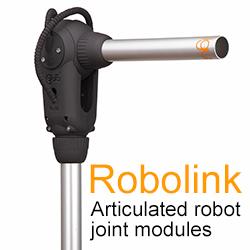 Robolink: Articulated joint modules for robots. igus® now offers a lightweight, maintenance- and corrosion-free range of robot joints for humanoid systems or other automated applications. The carbon-fiber plastic joints can rotate and oscillate freely via four wire ropes. No more expensive milling, cutting or DIY systems. Moving mass is reduced to a minimum. The actuators (engines, pneumatics and hydraulics) and the control module (DP, PC) are kept separate. Contact igus® for more information and free samples.