June 5-6, 2013 in Winona Lake, Indiana
Stäubli robotics is proud to be a part of OrthoTec, the premier event for orthopedic innovators and leaders from device manufacturers June 5-6, 2013 in Winona Lake, Indiana. The educational conference program features the industry's very best subject matter experts to discuss timely and relevant topics that will impact your device projects in the years to come. The exhibition is ideal setting for in-person meetings with top contract services and technology providers, and for hands-on access to the materials, technology, and services for orthopedic device development.

A medical industry automation leader, Stäubli will be showcasing lab automation solutions from the life science, pharmaceutical and medical laboratories industry leaders at booth 209. The clean, highly accurate range of four and six-axis robots provide the ideal solution to the unique demands of the life science industry including:
• Cleanroom applications
• Handling of vaccine flasks
• Automation of cell culture
• Seeding bottle gassing and cell scraping
• Drug discovery
• Plate handling
Stäubli also has an entire robot series designed the stringent requirements of VHP (Vapor Hydrogen Peroxide) decontamination in isolator-barrier systems. Complex surface coatings and full encapsulation enable the robots to withstand hostile environments, even those involving corrosive H2O2. Their rigid structure delivers better dynamic performance, while specialized technology eliminates restrictive enclosures, problems related to glove ports and heavy mechanical arms, and other challenges typically associated with robotics in isolator systems.
Be sure to stop by booth 209 to learn more about these exciting products.
For more information about OrthoTec 2013, visit: http://www.canontradeshows.com/expo/ortho13/exhibit/s.html
About Stäubli:
Stäubli is a mechatronics solutions provider with three dedicated divisions: Textile Machinery, Connectors and Robotics. With a workforce of 4000, Stäubli has a presence in 25 countries and agents in 50 countries around the world.
Featured Product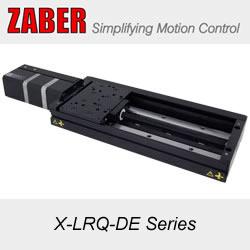 Zaber's new and improved stage (X-BLQ-E) is a closed-loop, belt-driven motorized linear stage with built-in motor encoder and controller. With travel lengths up to 3 m, 10 µm repeatability, and a maximum speed of 2.0 m/s, X-BLQ-E stages are perfect for rapid positioning over large distances. A built-in motor encoder allows closed-loop operation and slip/stall recovery, and an optional indexed knob provides manual control for operation without a computer. Like all Zaber products, the X-BLQ-E Series is designed for easy set-up and operation.