Kinova to unveil MICO, a new state of the art robotic manipulation platform at ICRA 2013 in Karlsruhe, Germany.
Montreal, Quebec, Canada May 06, 2013

Kinova inc., a leading provider of lightweight manipulation platform, announces the new robotic arm MICO available for pre-order. The little brother of JACO, Kinova's flagship product for the past 3 years, is perpetuating the trendsetting features set by the company.
"We've been listening carefully to the robotics community for the past two years about their needs and frustrations on the current robotic manipulators offer," said François Boucher, chief business development officer at Kinova. "MICO is now giving the opportunity to a wider range of roboticists to bring further the developments in personal robotics by offering a complete solution at a much lower price."
MICO is allowing the developers to be more creative than ever.
With its unique modular design, this lightweight manipulator is the perfect fit for a multitude of applications in personal robotics, especially in mobile manipulation.
Features
*Plug & Play
*Open API (Windows, Linux, ROS)
*Complete set of sensors, including torque and acceleration on every actuator
*Modular, Lightweight and compact design
*Unlimited rotations
*Low power consumption
*Weatherproof
*Underactuated fingers
MICO will be available worldwide beginning Fall 2013 - check kinovarobotics.com to request a quotation.
About Kinova inc.
Kinova is a Canadian company engaged into the design and manufacture of innovative manipulation solutions in the field of personal robotics. The team of experts at Kinova is dedicated to offer practical robotic platforms solving real and concrete problematic of daily life, especially in rehabilitation.
Featured Product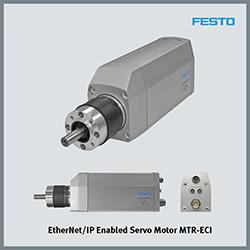 Mechatronic Motion Solutions from Festo is a unique system of components, modules, and software. It integrates all types of pneumatic, servopneumatic and (electro)mechanical automation motion and combines them according to your task. Irrespective of the control system environment you use, Mechatronic Motion Solutions always provides the appropriate interfaces. The fingers can be actively moved and their strength amplified; the operator's hand movements are registered and transmitted to the robotic hand in real time. The objectives are to enhance the strength and endurance of the human hand, to extend humans' scope of action and to secure them an independent lifestyle even at an advanced age.