A video teaser of our new version of Robotmaster.
Elevating Robot Programming to Unprecedented New Heights

http://www.youtube.com/watch?v=X4w4ywBClXE&list=UUNacvpBb3r4k4PeMdSvU1ig&index=1
Featured Product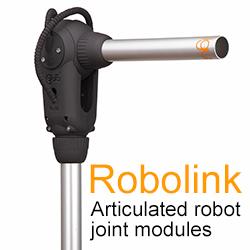 Robolink: Articulated joint modules for robots. igus® now offers a lightweight, maintenance- and corrosion-free range of robot joints for humanoid systems or other automated applications. The carbon-fiber plastic joints can rotate and oscillate freely via four wire ropes. No more expensive milling, cutting or DIY systems. Moving mass is reduced to a minimum. The actuators (engines, pneumatics and hydraulics) and the control module (DP, PC) are kept separate. Contact igus® for more information and free samples.