Precision Hawk, an unmanned aerial systems and remote sensing company, uses re-branding as an opportunity to launch new model of UAV platform.
May 09, 2013

Unmanned aerial systems and remote sensing company Winehawk Labs announced today they will release a new model of their successful UAV platform in May of 2013 to coincide with company re-branding. The change in company name, from WineHawk Labs to Precision Hawk, reflects a change in focus from specifically viticulture to broader agriculture where there is a great need for precise data collection and cost-effective platforms for farmers and surveyors.
"We didn't start out to build birds," said Ernest Earon, CEO Precision Hawk. "There are a lot of companies that can build an aircraft and do it fairly well, but as we started to build this internal intelligence and do more research on reducing the training and effort required to collect information, it became obvious that agriculture was not very well served from a data perspective. Precision Hawk is providing a solution to the area of precision agriculture where there is a clearly defined need."
The new UAV model, the HawkEye Lancaster Mark III, has a fully integrated sensor suite that provides more flexibility in data collection than the previous model. The small and lightweight fixed-wing platform, weighing only three pounds and measuring three feet nose to tail, is completely autonomous, running on the 'fly and forget' method. The user-friendly platform allows users to walk out of their back door, toss the platform, wait for it to come back and instantly have the data transfer to a preferred software location. The hyper-intelligent sensors allow for the collection of data on anything from plant research to crop production and protection and account for the current weather conditions to ensure reliable and complete data.
"Our focus is on the data, not the platform," said Patrick Lohman, COO Precision Hawk. "We consider ourselves more a remote sensing company than an unmanned aircraft company. The only thing that matters at the end of the day is the data that the user can collect and how that data can be translated to create a positive outcome for the user."
The precision agriculture market is set to boom with the opening of US airspace to civil unmanned aerial vehicles by the FAA in 2015. Currently, Precision Hawk operates their research and development teams in Canada, with U.S. business offices located in Indianapolis, Ind. and Raleigh, N.C.
About Precision Hawk:
Precision Hawk is a civil unmanned aerial systems and remote sensing company founded in 2010 in Toronto, Canada under the name WineHawk Labs. The company's focus is on gathering the most precise and complete data and information in the field of agriculture. The team is comprised of professionals in the United States and Canada with backgrounds in remote sensing, unmanned aircraft operations, software development, data processing and GIS systems development.
Featured Product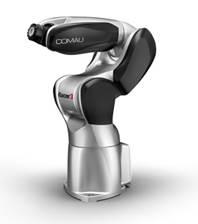 Racer3 is a powerful, high-speed, 6-axis articulated robot featuring a payload of 3kg and a reach of just 630 mm. Built from high-strength aluminum, the newest innovation in Comau robotics is lightweight and can be easily mounted on benches, walls, ceilings or on inclined supports. The third robot within the award-winning Racer family, Racer3 is Comau's response to the growing demand for fast, cost-effective robotic automation within small to medium-sized enterprises and emerging countries. Racer3 is intended for general industry use to increase productivity and reduce overall costs by automating industrial applications. It combines field-proven technology and enhanced dexterity with a keen focus on safety, design and product aesthetics. With a streamlined design and brushed metal exterior, the new powerhouse of a robot combines beauty and speed together with absolute precision and repeatability. Primary applications include assembly, material handling, machine tending, dispensing and pick & place.